Best Games of 2012 – The Dice Tower Awards!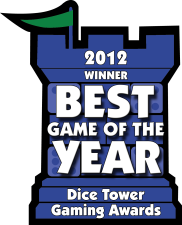 Out of the 3,000+ new board games, card games, dice games, family games, party games, war games, cooperative games, strategy games, and many more published in 2012 – the best have now been announced!
Well, at least according to the more than 40 top board game reviewers around the world these are the best board games.
Every year, The Dice Tower gathers recommendations from around the globe. Those reviewers then whittle the lists down to the nominations. From there the final votes are cast and The Dice Tower Awards are announced!
Best Board Games of 2012


While we didn't have a chance to play every game that was nominated this year, we did get in quite a few.  There are just so many great games out there. One thing we'll say for sure is that it's hard to go wrong with the games on this list.
And if you're after the Best Plus 1 – then be sure to check out the official announcement of The Dice Tower Awards 2012 to see the Runners Up.
However, we will mention that for the Best Family Game category this year, we're skeptical about Love Letter winning. We haven't played that game yet, and we don't intend to either. Sure there are a lot of people that like the game, but when we've looked at information about the game, we just don't think "Family Game" comes to mind. And the theme sure doesn't seem like it would appeal to most families.
Nonetheless, we still think The Dice Tower Awards for best games of the year packs in a great list of recommended board games to play with your friends and family.
Check out the top board games from years past:
2011 – Best Game of the Year Winner: Eclipse
2010 – Best Game of the Year Winner: 7 Wonders
2009 – Best Game of the Year Winner: Smallworld
2008 – Best Game of the Year Winner: Dominion
2007 – Best Game of the Year Winner: Race for the Galaxy
Posted on July 11th, 2013