10 Must-Have Family Card Games
We recently wrote about our Top 10 Must-Have Family Board Games – the board games that we believe every family should have in their game library. But families cannot live on board games alone. Families should also have a great group of card games to pull out when they want to spend time playing together.
Many times card games are simpler to pull out and play for a quick game. They're also typically smaller and easier to take on family vacations. And of course, they are often cheaper than board games so buying a number of card games won't break the bank.
So here is our Top 10 Must-Have Family Card Games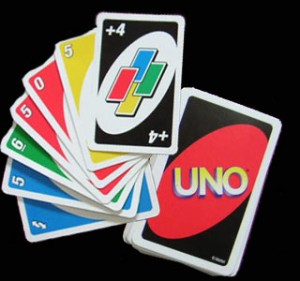 Hopefully everyone reading this article has played Uno before. If not, then we're sure you know someone who has. It's a very simple game of matching colors and numbers and being the first to get rid of all the cards in your hand. There are a number of variations of Uno and a number of alternate playing rules with a standard deck. We really like Speed Uno – where you can play a card out of turn if it's an exact match of color and number. Then play continues from that point. But regardless of how you play, we think you should definitely have Uno on your family game shelf.
2-10 Players, Ages 6+, 30 Minutes, Around $8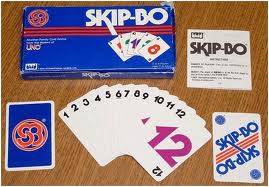 SkipBo is another card game that we love because it can be played easily by old and young alike. Like other family card games, you're trying to be the first to play all of the cards in your stack. It takes more forethought than Uno because you can have a few piles in front of you to line up your cards before you play them to the center. And playing the cards is simple as you stack them in sequential order from low to high. There's nothing quite like playing a bunch of cards in a row and turning over the next card in your stack to have it perfectly line up with what's available.
2-6 Players, Ages 8+, 20 Minutes, Around $8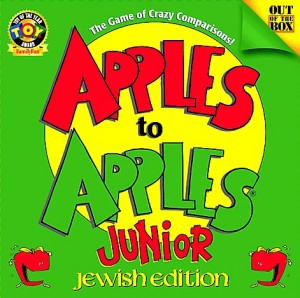 Apples to Apples seems like it's a game that's already in everyone's collection. But if it isn't, then run out and get a copy. It's a fantastic game and works best with more players. A green card with a single word on it is played by the judge for that round. The other players take a card from their hand that they think is comparable to the word on the green card and play it face down on the table. The judge for that round then lays out the played cards and selects which card he/she thinks is the best and then the player that played that card gets a point. The junior version plays exactly the same, but is much easy for kids to relate to the words on the cards.
4-10 Players, Ages 9+, 40 Minutes, Around $20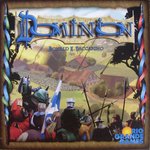 Dominion is the most expensive card game on this list ($40) and it comes in a board game size box, but it's well worth it! If you haven't tried it yet, we highly recommend you give it a shot. When it first came out, it was such a new and unique play experience that we'd never played before. But because of the amazing success of Dominion, numerous other games have been made that have similar play mechanics. We also need to warn you that Dominion is very addictive. So welcome to your new addiction – go grab a copy of Dominion for your family. See our full review of Dominion.
2-4 Players, Ages 10+, 30 Minutes, Around $40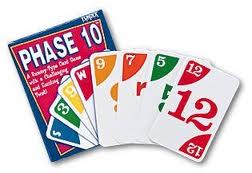 Phase 10 is a rummy type game where you compete to be the first to complete all ten phases. Each phase of the game requires you to play cards in a certain fashion – like sets and runs. You play in rounds and if you complete the requirement of a phase during a round, you'll move on to the next phase on the next round. But if someone plays all the cards in their hand before you complete the phase requirement, then you'll have to attempt to complete that same phase during the next round (while others have moved on). The only warning we have is that with 6 players, the game and last a while longer – in which case we take a break and go at it again later.
2-6 Players, Ages 8+, 45 Minutes, Around $10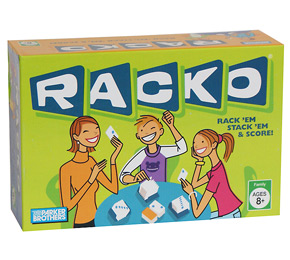 Racko is another card game that we'd call one of the best family card games around. It's simple to understand, can be played by both young and old, is a mix of luck and some strategy, and has plenty of player interaction. In fact, one of the things we like best about it is the player interaction. There's just something sweet about rearranging the sequence of cards in your opponents rack. Of course, turn about is fair play, so you never know when payback will strike you.
2-4 Players, Ages 8+, 20 Minutes, Around $15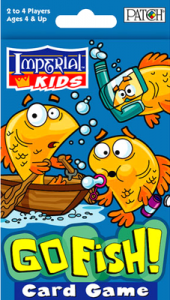 For the younger players in your family, Go Fish is definitely a "must-have" card game. Go fish a matching card game at a very basic level, but instead of matching by sight, players must guess what their opponents have. There are tons of different Go Fish card decks (different animals, letters, characters, seasons, etc.), so pick one that your kids will be interested in and start them young. Seeing the joy in your young child's eyes when they have to "go fish" and they draw the card they were looking for – priceless.
2-6 Players, Ages 4+, 20 Minutes, Around $10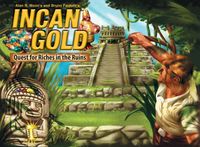 We love this 'press-your-luck' card game. The theme is fun (excavating for treasure), the game play is very simple (do you go on or go back?), and up to 8 people can play. So even larger families can enjoy playing it together. And you get to find out how much your family members like to risk. Are they always the ones trying to go one card further into the cave, or do they take their treasure and head back to camp to keep it safe? It's also a game that we've never stopped at just one play. See our full review of Incan Gold
3-8 Players, Ages 6+, 20 Minutes, Around $18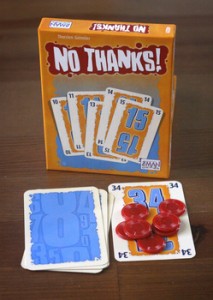 No Thanks! is a simple card game but it's also very engaging. Each turn, players have two options: 1. Play one of their chips to avoid picking up the current face-up card, or 2. Pick up the face-up card (along with any chips that have already been played on that card) and turn over the next card. However, the choices aren't so easy because players are trying to have the lowest score at the end of the game. So the big debate is whether it's worth picking up that card you really need even if it comes at a cost of more chips. For a game with such a polite name it sure can cause some angst.
3-5 Players, Ages 8+, 20 Minutes, Around $10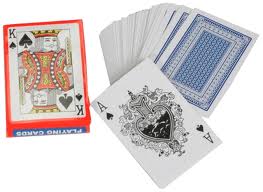 Of course, for general card fun with a wealth of different game options, nothing beats a standard deck of 52 cards. I don't know how many decks of cards we have but I know we've got quite a few and they're well worn. You can get a deck of cards almost anywhere for very cheap. Most of the decks we have are also memories of where we've been on vacation – like our Disneyland deck. And it almost goes without saying that one of the first card games our kids learned was WAR. It doesn't get much simpler than that – is my card value higher than your card? Sweet! I get it. What's fun to see is that even as the kids have grown, they have fun passing the time playing WAR with each other.
Number of Players = varies, Ages = varies, Play time = varies, Cost = cheap
We'd love to hear what your "must-have" family card games are. What are the card games you'd throw in your bags to take on vacation with you?
Other family card games you might like:
Posted on December 15th, 2010