Dominion – a game like no other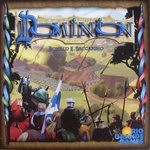 After having read and heard about Dominion for a long time, we've been anxious to pick up a copy for ourselves for a while. So with such high expectations riding on it, how does Dominion stand up as a family game?
In our family video review Jaden tells what he thinks of Dominion and gives you a taste of how it plays. With such a wide variety of cards and options he doesn't cover everything, but you should be able to tell if Dominion would be a good game for your family.
Can the whole family enjoy Dominion?
If they can read and understand the cards, they can play. But will they enjoy it?
As with most games, that depends completely the interest of the people in your family. We can only tell you what our family thinks of it. It's pretty easy to see from the video review of Dominion that Jaden absolutely loves it. It's also a big hit with Trevor. And extremely addicting for dad.
Jaden recommends 9 and up in his review. So what about Caleb, our 6 year old? Well, he pulls it out a bunch too. Of course, he seems to forget the name of it and simply calls it Domination. So I'm greeted at the door when I get home from work with "Hey dad, do you want to play Domination? I already have it set up." When you're greeted at the door like that, it's sure hard to say no. (Isn't dad such a push over.)
And what about daughters?
Unfortunately I can't answer that question yet. So far our daughter hasn't given it a try. I'm sure she'll pull up a chair one of these days. And when she does, we'll just have to update our review.
How easy is it to learn?
Dominion is really a game like no other. Although we've never played a game like it before in our family, we're sure it won't be the last of its type. With the success and awards that Dominion has won, we're sure that there will be many game developers trying to copy the formula (some are already around). Let's just say that when we first played it at SaltCON, we were glad that someone was there to teach us how to play. Because trying to play from the rules would have taken much longer to understand.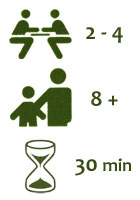 That being said, as you can see in the video review, the basic mechanics of how you play your cards really is simple at the core. But with the wide variety of cards to choose from, getting familiar with the cards is what takes a while to pick up. The good news is that you don't need to memorize the cards in order to enjoy it. In fact, it's the wide variety of card options that makes it enjoyable and generates the "let's play it again" response.
And isn't that what makes a great family game night – when your kids call out "let's play it again"?
So hats off to Rio Grande Games for publishing such a unique card game that's created a whole new genre of card games.
You can also check out our recent reviews on 2 of the Dominion card game expansions:
Dominion Games:
Posted on April 6th, 2010