Board Game Gift Guide – Update 2012
November and December are perhaps the busiest months for board game and card game purchases. When it's time to buy gifts, so many families turn to board games.
Why? Because they're a ton of fun to play with family. There's a lot of bonding that can happen around a game table. And the holidays bring a lot of family together. Good memories and good times.
Last year we put together our Board Game Gift Guide and it was so popular we added it as a regular section to our website in the top navigation bar. It lists 40 great board games, card games, and party games broken out into 9 categories.
We've also been asked a lot if we we're going to do it again this year.
Since most of those games would still be on the list this year, we decided that rather than re-create the list we'd just add to it.
If you're looking to buy some board games, card games, dice games, 2-player games, or party games this year we'd highly suggest you also consider these great games:
Games for Kids:
These are games that young kids will understand and enjoy playing.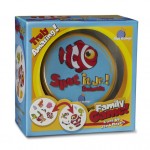 Spot It Jr! Animals
Ages: 4+, Players: 2 – 6, Time: 15 min
Spot It Jr! Animals is played the same as Spot It! but in a simplified manner so that younger players can play, too. Each card in Spot It Jr.! Animals features six different animals, with the sizes of animals varying from one card to another. Any two cards have exactly one animal in common. The basic was to play is simple, reveal one card, then another. Whoever spots the animal in common on both cards claims the first card, then another card is revealed for players to search, and so on.
Qwirkle Cubes

Ages: 6+, Players: 2 – 4, Time: 45 min
Qwirkle Cubes is a sequel of sorts to Qwirkle with the goal of the game being the same as before: Create rows and columns in which the tokens all match either in color or symbol in order to score points. Each time you add tokens to the playing area, you score points equal to the rows/columns that you create or add to. Close out a row by playing the sixth token in it, and you score six bonus points in addition to whatever else you score for the turn. In Qwirkle, the pieces have a colored symbol on one face and are otherwise blank, but in Qwirkle Cubes the tokens have six faces in the same color, with each face having a different one of the six symbols so rolling cubes adds a new level of play.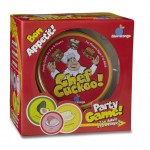 Chef Cuckoo!
Ages: 7+, Players: 3 – 8, Time: 20 min
In Chef Cuckoo! players (chefs) use ingredient cards to make dishes that the judge will chose. Each chef is given 6 ingredient cards and the judge chooses a dish from the ones available on the table such as "Best Pizza", "Best Omelet", or "Worst Salad", etc. The chefs then pick 3 of their ingredients to use in the dish and the judge awards 2 stars to his/her top choice and 1 star to the runner-up. Then the next person becomes the judge and it continues until all dishes have been made. The player with the most stars wins.
Family Strategy Games: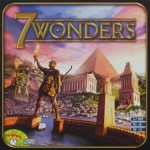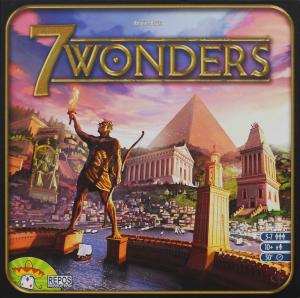 These are games that the whole family can enjoy together. We've also posted video and written reviews of each of these games where you can get a better understanding of the game.
7 Wonders
Ages: 10+, Players: 2 – 7, Time: 30 min
A fun card game of civilization building where players are making choices and playing cards simultaneously which keeps the games moving along quickly and keeps everyone engaged constantly throughout.
See our full review of 7 Wonders.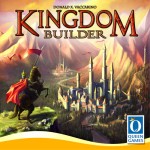 Kingdom Builder
Ages: 8+, Players: 2 – 4, Time: 45 min
Kingdom Builder was named the Spiel des Jahres (Game of the Year) winner for 2011 and we weren't surprised because it's a fantastic family board game. It has simple rules, straightforward game play, and variable scoring conditions so every game has a unique mix to offer. Each game requires 4 boards to link together to set up the terrain. With more than 4 boards in the game, every time you set the game up the world will be different. There are also 10 cards that dictate what the conditions are for scoring points. But you'll only play with 3 of those cards each game. So again, every game will differ. Love it.
See our full review of Kingdom Builder.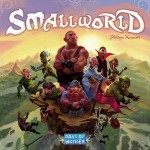 Small World
Ages: 8+, Players: 2 – 5, Time: 80 min
Small World scored a huge 5 out of 5 for Trevor's review and is just as well loved among the rest of the boys in the family. The random combinations of races and abilities keep this board game fun over and over. Choosing the right combination to conquer territories in this small world is key to doing well. But even if you don't win, you have a ton of fun in the process. And the dedicated boards and amount of turns that are based on the number of players in the game makes it equally fun with 2, 3, 4, or 5 players.
See our full review of Small World.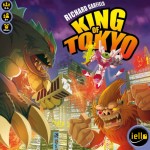 King of Tokyo
Ages: 8+, Players: 2 – 6, Time: 30 min
King of Tokyo is a light and fun "king of the hill" type board game that's also great for parties. In a Yahtzee still mechanic players take turns rolling dice up to 3 times to get the combinations they like. The big difference is that with these dice players are gaining points, gaining energy, attacking other players, or reviving their health. It's a bunch of fun for both family and friends. It's also become a good "go-to" game with our guys game night. Lots of fun and another great board game gift idea.
See our full review of King of Tokyo.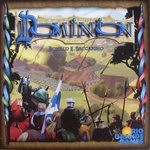 Dominion & Expansions
Ages: 8+, Players: 2 – 4, Time: 30 min
Dominion was included in our original Board Game Gift Guide as a Bonus Game Suggestion. However, that makes is sound like an afterthought – which doesn't do Dominion justice. Dominion is on our "Must Have" Family Card Games list for a reason – it rocks. And if you throw in a couple expansions the variety is fantastic. When I look at my list of most played games, Dominion is on top by a huge margin. And all the neighbors I've introduced Dominion to rush out to get their own copy. It's definitely a great card game gift.
See our full review of Dominion.
Cooperative Games:
When you're looking for a game with less confrontation, take a look at some great cooperative board games where everyone works together as a team to defeat the game.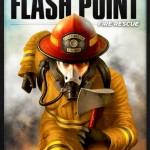 Flash Point: Fire Rescue
Ages: 10+, Players: 1 – 6, Time: 45 min
As you can imagine, Flash Point: Fire Rescue is all about firefighting. You work together as a team of firefighters to rescue people and animals from burning buildings. One of the things that we really like about Flash Point is the randomness of where the fire heats up. During every player's turn they roll 2 dice to see where the next smoke token is placed using a cool grid system. Everything may be going along just great and then all of a sudden, explosions start happening and knocking out walls. It's a race against time and you're all rooting for each other. Great family game with variable levels of difficulty that allows for up to 6 players.
See our full review of Flash Point: Fire Rescue.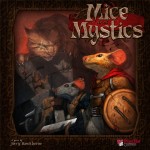 Mice and Mystics
Ages: 7+, Players: 1 – 4, Time: 120 min
Mice and Mystics is a more expensive game with a long play time, but it's getting rave reviews. We have yet to play it though it's on our wish list. It's very story driven and players get wrapped up in the story as well as the play. Here's a sample description: "Players take on the roles of those still loyal to the king – but to escape the clutches of Vanestra, they have been turned into mice! Play as cunning field mice who must work together to save an imperiled kingdom. Race through a castle now twenty times larger than before and full of countless terrors awaiting heroes who are but the size of figs. They will face countless adversaries such as rats, cockroaches, and spiders, and of course the greatest of all horrors: the castle's housecat, Brodie". Sounds really fun.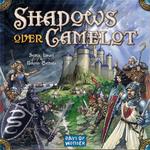 Shadows Over Camelot
Ages: 10+, Players: 3 – 7, Time: 90 min
Shadows Over Camelot is another cooperative game full of theme. Players take on the roles of knights of the round table and venture out on quests. When they successfully complete a quest, such as retrieving Excalibur, they add a white sword to the round table. If quests are failed, then a black sword is added to the table. As you can guess, if there are more black swords in the end, then the knights lose. The trick is that quest areas are filling with bad stuff along the way so it's possible to fail quests by simply not having a knights head off on those quests.
See our full review of Shadows Over Camelot.
Two-Player Games:
Need a game for just 2-players? Here's a couple more to consider that are good for some mental work as well.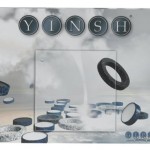 Yinsh
Ages: 9+, Players: 2, Time: 30 min
Yinsh is a great abstract strategy board game for 2 players that requires some mental effort to figure out how to play well. But that also means Yinsh is a game where your ability to play well will improve the more you play it. Since Yinsh doesn't have any elements that rely on luck, it's all about how much mental effort you put into it. It can also be a tough game to find in stores. So when you see it available, it's good to jump on it.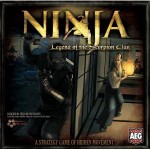 Ninja: Legend of the Scorpion Clan
Ages: 12+, Players: 2, Time: 45 min
Ninja: Legend of the Scorpion Clan is a hidden movement board game where one player's pieces are on the board moving around while the other player moves around stealthily. One player plays the role of two ninja sneaking around to find their objective and get away while the other player plays the role of guards trying to discover and eliminate the ninja. Of course our boys love to play the part of the ninja the most, but there's still a lot of fun in being the guard and trying to discover the ninja by deduction.
See our full review of Ninja: Legend of the Scorpion Clan.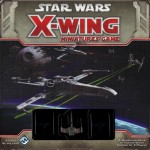 Star Wars: X-Wing Miniatures Game
Ages: 14+, Players: 2, Time: 30 min
Star Wars: X-Wing Miniatures Game is a tactical ship-to-ship combat game in which players take control of powerful Rebel X-wings and nimble Imperial TIE fighters, facing them against each other in space combat. Featuring amazingly detailed and painted miniatures, the X-Wing Miniatures Game recreates exciting Star Wars space combat throughout its several included scenarios. The Star Wars: X-Wing starter set includes everything you need to begin your battles, such as scenarios, cards, and fully assembled and painted ships.
Party Games:
We're adding a bunch of games to the Party Games section this year. Playing with more people is always fun and it's easy to add more people to these games for fun. The more the merrier.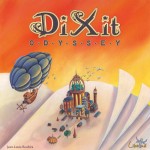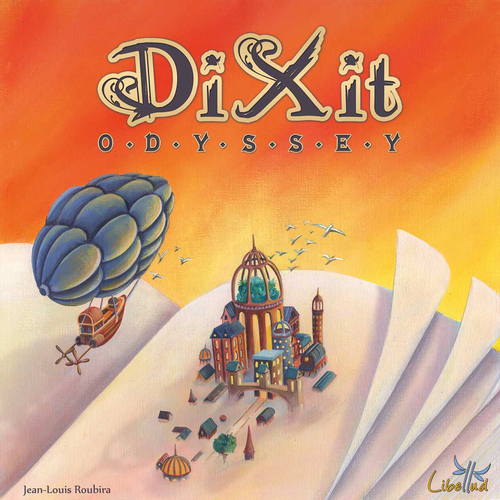 Dixit Odyssey
Ages: 8+, Players: 3 – 12, Time: 30 min
Dixit Odyssey is all about letting your creativity juices flow. It's a card game full of cards with very abstract and distinct illustrative artwork that let players' imagination run wild. The original Dixit game was awarded the Spiel des Jahres winner in 2010 – which obviously helped it become so popular and spawn many expansion games. Dixit Odyssey allows for up to 12 people to play – making it great for parties.
See our full review of Dixit Odyssey.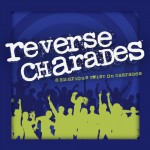 Reverse Charades
Ages: 6+, Players: 6+, Time: 30 min
Reverse Charades makes a twist on the typical charades game of 1 person acting out while their teammates tried to guess the word or phrase. Instead, as the name implies, Reverse Charades reverses all that and challenges the group to act out while only 1 person guesses. People who typically dislike charades because they feel so much pressure when it's their turn to act are now able to a lot more fun. It's not just them on stage anymore. And it's hilarious to watch a bunch of people trying to act something out.
See our full review of Reverse Charades.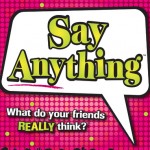 Say Anything
Ages: 13+, Players: 3 – 8, Time: 30 min
Say Anything is a pure party game. It gets people talking about interesting things and making ridiculous statements. It was designed by the makers of Wits & Wagers (another great party game) and a lot of fun to play. Each player gets a dry-erase board to write their answers to the questions and the judge votes on what answer they like best. But before the judge reveals their answer all players get to vote on which answer they think the judge will choose. Then points are awarded based on your guesses. Lots of fun.
See our full review of Say Anything Family edition.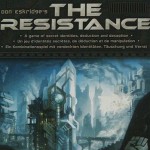 The Resistance
Ages: 13+, Players: 5 – 10, Time: 30 min
The Resistance has been a huge hit for group play. It may not get a lot of laughter like the other party games we've listed so far, but it's big hit nonetheless when we've got a group of people playing games. It's a social deduction game with a number of unique elements that keeps players second-guessing their hunches. Since once of the best reasons for playing board games and card games is the social interaction, The Resistance is fantastic. That's what it's all about.
See our full review of The Resistance.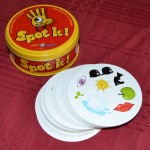 Spot It!
Ages: 7+, Players: 2 – 8, Time: 15 min
Spot It is a quick card game that only takes a minute or two to play and is all about spotting the image that matches on two cards before everyone else does. The tricky thing is that for any two cards in the deck, 1 and only 1 item will match. Because of the simple play and the type of art on the cards, you may think that it's just a kids game. But you'd be wrong. Playing with adults is a lot of fun too because of how competitive people become as soon as the cards are turned over. It's also great for parties because it's fast-moving and draws people to play.
See our full review of Spot It!
Dice Games:
Sometimes all it takes are dice to have a great game. Here are a couple of fun dice games that make great gifts.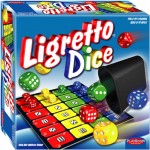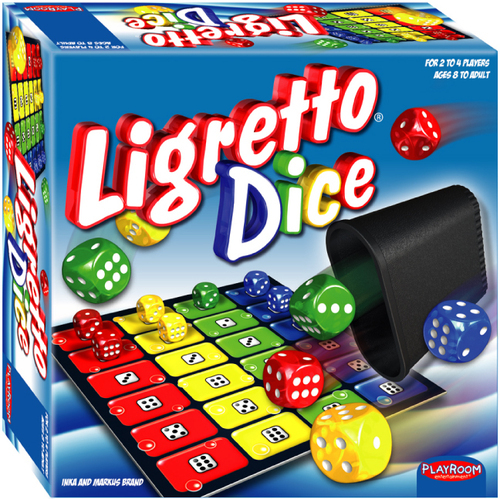 Ligretto Dice
Ages: 8+, Players: 2 – 4, Time: 30 min
Ligretto Dice is another simple game that people of all ages can enjoy. It has plenty of colorful dice and lot's of rolling. It's as simple to understand as matching the dice to the board. Of course, don't be fooled by the simplicity of it. Part of the fun of Ligretto Dice is how the tension mounts when you're trying to roll your last die and the board's filling up. Because when you're in need of rolling a 3, before you know it, you'll be pulling your hair out while you quickly roll your last die over and over and over.
See our full review of Ligretto Dice.
Tumblin-Dice
Ages: 13+, Players: 1 – 4, Time: 30 min
A dexterity dice game with four sets of colored dice players either slide, roll, or flick down a stepped surface. After each person has slid their 4 dice, points are scored. You score the die roll times a multiplier of either 1×, 2×, 3×, or 4× depending on which area of the board the die ends up on. Four rounds are played and the player with the most points win. While that sounds pretty straight forward, keeping the dice on the board and getting a good roll to stop where you want it isn't easy. But it is fun.
Gamer Games:
If you're looking for a board game gift for someone that loves to play more involved strategy games or games with a lot of theme, check out these options.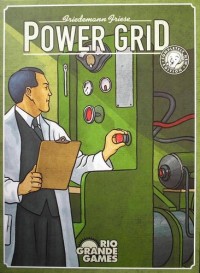 Power Grid
Ages: 12+, Players: 2 – 6, Time: 120 min
I love Power Grid! But I also know that not everyone will like to play it. Sure that may make it crazy to put on a board game gift guide, but I love it too much to keep off the list. I love it because there's so much thinking involved. Every element needs to be watched and evaluated to determine when the right time is to make a move. First, you have to watch the map and decide which cities to build in and extend your network while keeping an eye on the other players. Second, the different types of power plants are auctioned off so you have to evaluate how valuable certain plants are to you and your opponents. Third, resources are scarce and the prices fluctuate so you need to know when to buy, stock up, or drive up prices for others. Add to that the fact that player turn order makes a big difference in all of the above, so you don't want to build out your network too fast. A lot of thinking and for people that love a lot of that in their board games may love Power Grid.
See our full review of Power Grid.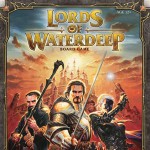 Lords of Waterdeep
Ages: 12+, Players: 2 – 5, Time: 60 min
Lords of Waterdeep is a strategy board game where players take on the role of one of the masked Lords of Waterdeep, secret rulers of the city. It's set in the Dungeons and Dragons universe but you don't have to know anything about D&D to have fun. It's a worker placement type game where players work through agents and go on quests. The quests require certain resources to finish successfully and score victory points. Lords of Waterdeep was released this year, and while we haven't played Lord of Waterdeep yet it's been very well received and highly rated amongst board gamers.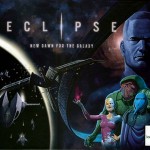 Eclipse
Ages: 14+, Players: 2 – 6, Time: 120 min
Eclipse puts players in control of a vast interstellar civilization, competing for success with its rivals. Players explore new star systems, research technologies, and build spaceships to wage war. There are many potential paths to victory, so players need to plan their strategy according to the strengths and weaknesses of their species, while paying attention to the other civilizations' endeavors. For gamers with a love of science fiction, Eclipse is a huge hit.
When we started this Board Game Gift Guide update we thought it would be quick to name just a few games to add to the list. But in the end we discover that it took some effort to narrow it down. And in the end, we still ended up with 24 games on the list. So it may not have been as short as we thought when we started, but they really are great games to consider.
Hopefully this give you even more great ideas of board games and card games to buy your friends and families this year!
Merry Christmas!
Check out our other annual Board Game Gift Guides:
Posted on November 24th, 2012