Renting Board Games is Fantastic
With so many games to choose from, I'm so glad we have a board game store nearby that rents board games. I don't know if your local board game store rents games, but we think it's a fantastic deal.
Boardgame Revolution, located in Orem Utah has a large library of board games available to rent. They let you rent board games for 10 days at a time for the low cost of only 10% of the cost of the game! And when you return the board game at the end of the rental period you can apply that cost to your purchase of any game in the store. Awesome!
It's a great way to try out board games or card games that you've heard of, but aren't quite sure if your family or friends will like to play. For only a few dollars you can take it home and give it a try.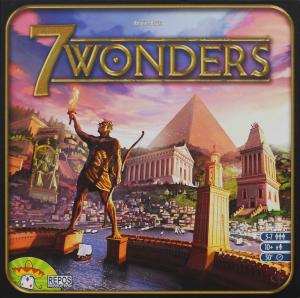 For example, if you've heard great things about 7 Wonders – maybe from our own review

– and want to give it a try, but are unsure about spending $35 to buy it. For only $3.50 you could take it home for 10 days and give it a whirl.
We rent DVDs or Bluray discs from RedBox for $1 a day. So $3.50 for a family board game for 10 days is a great deal. And if you love the game, spend the extra $31.50 when you return it to get a new copy of the game for your family.
When we first started reviewing board games, Boardgame Revolution was THE place to get our hands on a lot of great board games to try. In fact, when looking at our list of family board game reviews, I noticed that 11 of our reviews in those first 6 months were games we rented from Boardgame Revolution. (And a number of them we ended up buying.)
So let's give a shout out to Boardgame Revolution for their great board game rental program. And if your local game store doesn't have a way for you to try out games before you buy them, we'd highly suggest you tell them about Boardgame Revolution. Who knows – maybe they can give Boardgame Revolution a call to find out the details and set up a program of their own.
P.S. If you're like most of our site visitors and don't live in Utah, Boardgame Revolution also sells board games online at great prices…
Posted on July 25th, 2012