It's all rainbows & unicorns playing Unicorn Glitterluck
Have you ever dreamed of being a colorful unicorn bouncing from cloud to cloud and sliding down rainbows while collecting pink cloud crystals?
You may not have.
But if you have a young daughter, chances are high that she's had such a dream.
With HABA's Unicorn Glitterluck you can now make that dream a reality!
No doubt it's super cute. But is it worth having on your game shelves?
With 2 young daughters, our friend Jason Evans is the perfect person to give you the run down on Unicorn Glitterluck.
Unicorn Glitterluck is one of HABA's many excellent games designed for younger children.
The object of the game is to navigate your unicorn (Glitterluck, Stardust, Marvel Flower or Magic Heart) away from the oncoming storm clouds towards sunnier skies.
On your journey you'll try to collect as many Cloud Crystals as you can to protect your unicorn from the storm. The unicorn who reaches the sunny skies first will receive 4 extra Cloud Crystals and end the game. The player with the most Cloud Crystals at the end is the winner.
Set Up:
The fun begins in the very set up of Unicorn Glittlerluck.
The board comes in three puzzle shaped pieces which your child can figure out how to assemble by matching the pieces together.
Once the board is assembled, place 4 Cloud Crystals on the sunny cloud at the end (the fastest unicorn will get this bonus).
Players' unicorns are placed on the starting storm cloud in preparation for their journey ahead.
Set aside the two dice that come with the game and make sure the stash of pink crystals is nearby for easy access — as most of the fun comes from picking your crystals.
Player Turns:
As would be expected in a children's game, the options available on each turn are very basic.
You first roll the Cloud die. Your unicorn will dance down the number clouds as shown on the die (either 1, 2, or 3).
However, if you roll a cupcake, your unicorn will sit still on their cloud for a turn while they enjoy a tasty cupcake. It's a clever way to incorporate a "lose your turn" option on the dice. (In fact, my daughter actually loves rolling the cupcake symbol so she can pretend to eat a cupcake.)
As your unicorn moves through the clouds there are 4 types of landing spaces.
White cloud: Nothing special happens here and play is passed to the next player.
Pink cloud: When you land on a pink cloud, you roll the pink Crystal die. You will collect the number of Cloud Crystals as indicated on your roll, either 1, 2, or 3.
Cloud connected to a rainbow: When you land on a rainbow cloud, your unicorn will slide on the rainbow to a position forward on the board. Just like in real life, you only slide forward and never backward.
Purple present cloud: Unicorns love giving presents to each other. So if you land on a cloud with a present, you get to give one other player a crystal from the main stash.
Play continues until 1 unicorn reaches the final cloud and collects their 4 bonus crystals for being the fastest.
To help younger kids count their crystals, HABA designed an easy way to see how many crystals each player has. At the end of the game, flip over the game board and you'll find row of colored clouds for each unicorn.
By placing one crystal per cloud on their corresponding color, all players will easily be able to see which unicorn has the most crystals.
Component Quality and Durability
An important aspect to a children's board game is how well the components hold up to being handled by young children.
HABA, as always, hits it out of the park with the components in Unicorn Glitterluck.
The board is a thick, durable cardboard. And the dice and unicorns are solid wood. The crystals are bright pink and all items are large enough for kids to handle easily.
Can the whole family enjoy Unicorn Glitterluck?
My daughter loves playing this game!
And because of her excitement playing, my wife and I will always be excited to play Unicorn Glitterluck with her.
It is so fun to see her squeal with joy as she lands on a pink cloud and gets to roll the pink die for her crystals.
The goal is easy enough for her to understand that she wants more crystals than everyone else. So it's fun to see the healthy competitiveness that games can foster in young children. She has even started to smack talk me during games when she notices her pile of crystals is larger than mine, "I have so much more crystals than you daddy!"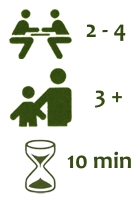 The concept and rules are simple enough that my daughter can teach her friends the game when they come over and want something to play.
The game box has a recommended age of 3-99 and I believe 3 is a very good age to start playing the game. Younger children would enjoy the unicorns and crystals but may not understand the concept of the game.
For all these reasons, I can highly recommend adding Unicorn Glitterluck to your game collection.
If you have a young child who likes unicorns or if you just want a fun, cute game to play together as a family, pick up a copy of Unicorn Glitterluck.
Jason Evans is always up for trying a new board game.
He particularly loves playing games with his wife and 3 year old daughter.
When not playing games he enjoys working, reading and exploring the great outdoors.
Posted on February 5th, 2017