Quixo board game review & giveaway!
Gathering the whole family together to play a fun board game is a great way to spend an evening.
However, in today's hustle and bustle world that can sometimes prove difficult. With school and extracurricular activities competing for our time, it can be difficult to gather the whole family together for games.
Luckily, there are plenty of board games designed for just 2-players.
They can be fantastic for spending time one-on-one with a spouse, child, or sibling.
When we think of one-on-one time with a child, we often think about engaging them in conversation — discovering more about their thoughts and feelings. But face-to-face conversations can sometimes put them on edge. So it's great to have somewhere else to focus our eyes while talking about such topics. They find it less intimidating and tend to open up more when we're not staring them down.
In these situations, 2-player games are more than just fun — they become a way to connect.
And the best games we've found for such situations are ones that only take a few minutes to play and don't require too much deep thinking.
A game that fits this perfectly is Quixo by Gigamic.
How to play Quixo
Quixo is a "5-in-a-row" game with a unique and fun way to play.
The game is made up of 25 cubes in a 5×5 grid. Each cube has an X and an O as well as 4 blank sides.
Players first determine who will be X, who will be O, and which person will take the first turn.
The game begins with blank sides showing on top of all the cubes.
On a player's turn, they must remove a cube from the perimeter and move it to another location. They can only choose a cube showing a blank or their own symbol.
Then they place it, with their symbol showing on top, at an end of the now incomplete row and push the other cubes in the row to fill the gap. The player can choose which end of the row.
For example, if they take it from the middle spot on the edge, they will have 3 places where they can place it — in either of the two corners on that row, or from the other side.
Players alternate turns until one player has lined up 5 of their symbols in a row either diagonally or orthogonally.
Once they've done so, they win the game.
Playing with 4 players
A great thing about Quixo is that it can also be played with 4 players!
Playing with 4 players can be a bit more tricky.
When doing so, players split into teams of 2 and sit opposite their teammate so that turns alternate between players and teams.
The catch in a 4-player game is that the dots on the symbol sides of the cubes come into play.
When it's a player's turn, they can choose either a blank cube or one showing their symbol as long as the dot next to the symbol is on their side of the cube.
This little change can make a huge difference in how the game plays out. Instead of just watching the symbols get pushed around, players also need to pay attention to which of their own cubes they'll be able to move on their turn.
Likewise, when placing a chosen cube, players need to evaluate which way they want to orient their cube. Do they want the dot to face them or their teammate?
It may sound like a slight change, but this one element creates a cool twist on the game when playing with 4 players.
What we enjoy about Quixo
We enjoy playing Quixo for a number of reasons.
For starters, it's a relatively quick game to play.
And because of that we never play just one game. We'll usually play the best 3 out of 5 or 5 out of 7 games.
We also love that it requires some strategic thinking.
While it doesn't require deep strategy, players definitely need to think a couple turns ahead. They'll have to pay attention to make the most of their opportunities.
But we also like that you can't plan too far ahead.
There are so many options an opponent has, that players must also be able to adjust on the fly and move to the defensive when necessary.
Another thing we love about Quixo is the quality of the components in the game.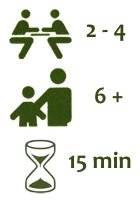 The wooden cubes look and feel nice to play with. And since the game comes with its own base, you can play it almost anywhere.
And lastly, like we mentioned in the beginning, while playing Quixo we can still carry on a conversation. We don't get so immersed in the game that we can't think of anything else. Instead, it's a game that we can play while talking about other things.
Quixo is a solid family board game we'll gladly recommend.
Thanks Gigamic for this quality family game.
Another Gigamic game we'd recommend is one of the first board games we reviewed many years ago — Quarto. You can see our full video review of Quarto here.
Game Giveaway!
Now, what you've all be looking for — a way to win a copy of Quixo for your family!
No – we're not giving away our copy because we're hanging on to that one. We're giving away a brand new, in-shrink copy of the game for one lucky winner.
And that could be you!
To enter, or get multiple entries, simply complete the options in the Giveaway Contest box below.
THE QUIXO GIVEAWAY CONTEST ENDED OCTOBER 24. SUBSCRIBE BELOW TO KNOW WHEN WE OFFER NEW GAME GIVEAWAYS.
Posted on October 14th, 2016