Luchador is dice rolling fun!
Modern dice games have come a long way from their early beginnings. While many games still rely on a number of pips on each side, it seems that more and more games are designed with a wide variety of symbols on the dice.
With such designs, the possibilities are endless.
And today we're jumping into the ring of Mexican wrestling with our review of Luchador! Mexican Wrestling Dice.
Last year my wife and I were lucky enough to spend an evening with the Luchador game designer, Mark Rivera and his family in London. I first connected with Mark years ago (long before he came up with the idea for Luchador). So much of the evening was spent visiting.
But we also took advantage of the time to play our first game of Luchador with Mark and his son.
Even though my wife and I's tag-teaming match ended in a loss, I knew Luchador would be a game I'd be playing again.
Well, that day finally came this last month after I met the gents from Backspindle Games at Gen Con. They're the publishers of Luchador and they sent me home with a copy of the fun dice game. I quickly got it to the table with my boys — who energetically dove into the lucha libre theme and had a great time.
Especially Caleb.
He can't seem to get enough. He's a dice-rolling fool and is always challenging others to a game.
See how to play Luchador as well as why Caleb enjoys it so much in his video review.
Can the whole family enjoy Luchador?
At its heart, Luchador is a straightforward dice rolling game. Players roll dice and compare results. However, with the addition of a Mexican wrestling theme, all of a sudden the game takes on a new life.
With the lucha libre theme, players now have reasons to cheer for certain results. And that makes for fun for all ages.
Even kids can join in the fun once they understand the different dice results.
Seeing images of different wrestling moves on the dice is so much easier and more fun than comparing numbers of pips to determine who takes damage.
Luchador can also be played with advanced rules that add a few more elements for older players who want more options. With the advanced rules, players have more decisions to make in how to use their dice. Rather than using them right away, they can set them aside to hopefully build up to even more powerful moves.
That being said, not everyone is going to enjoy the Mexican wrestling theme.
The teen boys we've played with as well as the guys at our monthly Guys Game Night have all had a great time playing. They all get into the smack-down theme and get a kick out of it — especially when playing with 4 players in tag-teams.
Yet we haven't had as great of reception among the ladies. Brooke and mom have been content to sit it out. (Until today! Check out our update at the end.)
You'll have to be the judge as to whether you'll have the same results in your family.
Take it to the mat
One of the things we love about Luchador is all the additional material that comes with the game.
We've already mentioned the fun of the wrestling dice themselves.
However, Backspindle Games didn't stop there. Instead, the game is full of colorful characters – colorful in standies, cards, and even in name.
Much like lucha libre itself, each character has a unique and fun name as well as colorful costumes. The standies themselves don't affect the results of the dice rolls. However, they're a great addition to get players into the theme of the game.
When you're up against an opponent, it's always more fun to see him/her standing there opposite you.
Each character also has their unique card with special moves and flare to go with their damage results.
But to top it all off, there's a physical wrestling ring!
Sure you can roll your dice on any simple playing surface. But why so that when you can have an actual ring, complete with ropes, to have your duel?
The ring is awesome!
Both players roll their dice simultaneously and any dice that fall out of the ring, don't count. It can be a bit frustrating to see a good die result end up outside the ring. But it's a very fleeting feeling because of the light nature of the game.
And when the dust settles, the winning players even have a championship belt they can raise up to celebrate.
It's these extra touches that help the game theme shine through.
UPDATE (9/17 evening):
It just so happens that the day we posted our review of Luchador, we were lucky enough to have Mark Rivera stop by our home for a visit!
Turns out he was over from London this week for his daughter's wedding here in Utah!
We were more than happy to return the favor of a visit like he did for us in London last year. We visited for a while and then Caleb set up Luchador for some wrestling time.
This time however, Mark convinced Brooke to play and she joined him on a team against Caleb and I.
It was a close match with all 4 of us low in strength with many Pin attempts ending in fails. However, they put the smack-down on me and Mark sent my strength plummeting with a mighty final blow.
Brooke and Mark were victorious.
Quickly followed by Caleb's call for a rematch.
While the second match started out very balanced with many tag outs, this time Brooke and Mark put the hurt on us much earlier. They quickly pinned Caleb and he couldn't escape.
Once again, Caleb and I were defeated. Bummer.
After Mark left, I asked Brooke what she thought about Luchador and she said, "it was a lot of fun".
Sure winning may have something to to with that. But I could tell she was having a fun time throughout as well.
What a great afternoon!
How does Luchador score on our "Let's Play Again" game meter?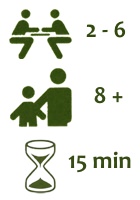 Luchador! Mexican Wrestling Dice scores high on our boys' "let's play again" game meter. Games seem to fly by so quickly we seem to always roll right into matches one after another.
With such a fun environment to play in, it's also tempting to leave Luchador set up on the table so future matches can emerge on a whim.
Thanks Backspindle Games and Mark Rivera for a fun family dice game!
Grab a copy of Luchador for your family.
Posted on September 17th, 2016