Ice Cool is so hot!
It's time to review our 2nd most-played game this month — Ice Cool.
Don't let the name fool you. This game is hot!
At Gen Con 2016 last month, Ice Cool was one of the hot games that sold out rather quickly.
I hadn't heard about it at all before Gen Con. And it's probably not surprising because Ice Cool is published by Brain Games out of Latvia.
Coming home with 13 games from Gen Con, Ice Cool was one that I was super excited to play because I thought it might go over well with the family.
And boy, was I right!
Ice Cool is a blast to play!
Check out Caleb's video review to see what Ice Cool is all about. (And catch some actual game play footage in the middle.)
Can the whole family enjoy Ice Cool?
Absolutely!
Ice Cool is a wonderful board game for families to play together.
Not only will it immediately appeal to kids, but teens and adults can have just as much fun flicking penguins around as the kids.
It's fun to see players quickly move from straight shots to attempting spins to get through multiple doorways with one flick. And everyone loves trying to jump the walls as well.
The game is so simple it only takes a minute to explain and you're off and flicking.
It's also a game that keeps players out of their seats. There's no way to play Ice Cool sitting down. It just won't work.
Players actively roam around the game table looking for the best angle.
Another reason it's a great game for families is that everyone gets a turn to play as The Catcher.
In most of the rounds, players will be trying to get their penguin through the doors to collect fish while one player is trying to catch them. But each player will also get their turn to try and run into the others for points rather than by getting through doorways. It's fun to mix it up and play both sides during a game.
Another Cool thing about Ice Cool
Hopefully you watched to the end of Caleb's review so you could see how cool even the game box is.
The game box itself becomes the the rooms of the penguin school!
Each room is numbered so it's easy to know which room fits into which when putting the game away (if you have to actually put it away).
The doorways also have colored dots on the floors to show which doorways line up with each other. And labels also make it easy to know where to place the brown fish clips for keeping the rooms together while playing.
It's quite the ingenious game design to integrated the box itself into the game play this way.
Also, each room has fun artwork to represent different rooms in a school — classroom, gym, cafeteria, etc.
Kudos to Brain Games!
How well does Ice Cool score on the "Let's Play Again" game meter?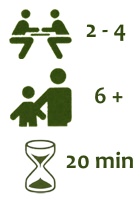 If you haven't guessed from this being one of our most-played games since we got it, Ice Cool scores very high on our "let's play again" game meter.
The game is very quick to play and is so fun that we always play multiple games in a row.
Everyone seems eager to try more ways to maneuver their penguin through the school.
Ice Cool is also a great game to simply leave out on the table — making it tempting and easy to play a quick game here and there.
We highly recommend Ice Cool for families.
The only current catch is that it's hard to get a copy so far. It's just hitting the market now, so watch for it coming to a game store near you soon.
Thanks Brain Games for a very fun family board game.
Posted on September 12th, 2016