Six board game review
As much as we enjoy playing games all together as a family, we also really enjoy playing 2-player board games.
It's fun to sit around the table with everyone for family together time. But it's also fun to sit down one-on-one with a child and go head-to-head in a fun mental challenge.
And today we're reviewing such a game by FoxMind: Six
Six is a short 2-player board game that's simple and enjoyable to play again and again.
And Caleb gives it his highest rating!
Check out his short video review of Six to see how to play as well as why he likes it so much.
Can the whole family enjoy Six?
While the name of the game may not be very original, it's very descriptive of what players are trying to do – simply get 6 tiles together in a certain formation.
And family members of all ages will be able to understand such a simple goal.
One of the first 2-player games most kids learn is Tic-Tac-Toe where players battle to get 3 in a row. Another very popular mass-market board game is Connect 4 where players race to line up 4 discs in a row. So young kids will definitely understand the concept of trying to get 6 hex tiles in a row.
However, there are more options for winning in a game of Six than getting 6 tiles in a row. As Caleb showed in his video review, players can also win by creating a circle or a triangle formed of 6 tiles. And those are trickier to plan for.
While that may make the game more challenging for the youngest kids in a family, at the same time such a twist will create a great opportunity for young minds to expand their skills.
Not only will it cause kids to look for new possibilities in how to arrange their tiles, they'll also have to be sharp to watch out for areas where their opponent may be getting tiles in place for a win.
And it's that thinking that keeps the game engaging for all players.
Because Six isn't just appealing to kids.
Six is also a fun challenge for teens and adults.
It may seem too simple of a game for adults, but the simplicity is also the beauty of it.
Two adults going head-to-head will often be more able to foresee the build up of their opponent's formations and block them in time. As such, the game may last longer and move into the second phase that Caleb actually didn't mention in the video.
If all tiles have been placed and there still isn't a winner, on subsequent turns, players are then able to move a tile to a new location. And figuring out where to remove a tile to place in a new location adds another level of strategy to the game.
Another way to mix up the challenge is to play in teams of two.
How does Six score on our "Let's Play Again" game meter?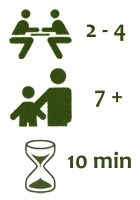 Because it's such a quick game to play and there's no set-up required, it's extremely compelling to play Six multiple times in succession – especially when you're the one on the losing end. You'll want to immediately go at it again.
Six is also a game that's super easy to play anywhere. All you'll need is a flat surface to play on – which is easy to find almost anywhere.
The game comes with a pouch for all the tiles. So when you're going on a trip, you don't have to worry about packing space for the box. Just grab the bag of tiles and go.
Thanks FoxMind for a fun family, 2-player abstract strategy game.
Posted on June 25th, 2016