Codenames party game review
We recently recommended Codenames in our 2015 Board Game Gift Guide because it's a fantastic game!
And we're not the only ones who think so.
Game reviewers across the globe are singing the praises of Codenames. In fact, we won't be surprised at all if it wins Best Party Game of 2015.
It may seem strange that a game without a lot of raucous laughter would be in the running for best party game. But Codenames will make such thoughts irrelevant.
Codenames requires a bit more thinking than your typical party game, but it's great for a number of reasons.
However, before getting too far, take a quick look at Brooke's video review of Codenames to get an understanding of how it plays.
Can the whole family enjoy Codenames?
Codenames can be enjoyed by most everyone in the family. The only ones who may not take to it are the younger kids.
And the only reason for that is because the game requires people to think through word associations. Those with more life experience will be better suited to think of more connections between the words.
This especially comes into play for the spymaster – the one giving the clues.
As Brooke shows in her video review, the spymaster is the person who knows which words their team must guess to win. So he/she must come up with a single word that ties multiple words together to give their team the best chance of winning.
Thus, spymasters must be able to read and understand different meanings, uses, and connections between words in order to give effective clues.
Yet, that's not all the spymaster has to think about.
The spymaster also has to think about which word clues not to give so their team doesn't incorrectly choose the other team's word or worse, the assassin.
That being said, younger kids may still like to join in the fun because it's really a team game. They may enjoy being on the guessing side and chiming in with their thoughts on which words are their agents. But the spymaster role is best left to older kids (teenagers) and adults.
Why does Codenames make for a great party game?
First of all, Codenames is a great party game because there's practically no limit to the size of the teams.
It's a game that's simple to explain, easy to understand, fun to play, and draws people in.
It doesn't matter if you start out with just 3 or 4 people on a team. If more want to join in the fun mid-stream, it's super simple to do.

Games of Codenames also don't last very long.
The 200 cards are double-sided so once a game ends, simply flip over the cards and another game is all set up and ready to go.
(Of course, the next game will require you to lay out 25 new cards, but how hard is that?)
Then just switch the spymasters (to give others a chance to work their magic), pick a new random key card, and you're set to go.
The key cards also make the game infinitely replayable. First of all there are plenty of them. And secondly, they each can be oriented 4 different ways. So you're likely to never face the same layout configuration in any of your plays.
How does Codenames score on our "Let's Play Again" game meter?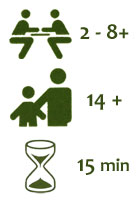 As you  might have guessed, Codenames scores very high on our "let's play again" game meter.
We've taken it to many extended family gatherings over the last few months. And since everyone has enjoyed it, we've played multiple times every time we pull it out.
(Not to mention that everyone wants a chance to be the spymaster. So of course we'll play it over and over.)
We've got a good feeling that you'll do the same as well. Buy a copy of Codenames for your family and join in the fun!
Thanks Czech Games Edition for a fantastic family and party game!
Posted on January 5th, 2016