Timeline Challenge Board Game Review
We've really enjoyed playing the Timeline series of card games and have previously reviewed 3 of them:
In Timeline, players compete to get rid of their historical event cards by placing them correctly in the growing timeline.
But with Timeline Challenge, Asmodee has stepped the game up a notch. This new board game brings a twist to the Timeline games by introducing a variety of historical date challenges.
I don't know if we'll ever play Timeline the normal way again.
Check out Brooke's video review to see why we enjoy playing Timeline Challenge so much.
Can the whole family enjoy Timeline Challenge?
Timeline Challenge
is definitely a game that a family will enjoy playing together.
The recommended age on the game is 10+ and we'd tend to agree. Kids younger than that may like to join in playing and they could have fun.
However, like with the standard Timeline games, older players will have an advantage over younger players. It's just that older players are likely to have more information stored in their noggins. They may not know specific dates of all these events, but with life experience and learning, they'll have a better feel for the general era in which certain events occurred.
That being said, Timeline Challenge is a fantastic game for kids to begin picking up on that knowledge.
Another element that makes Timeline Challenge a great family game is that there isn't any downtime. All players participate in each of the challenges along the way so no one is impatiently waiting for their next turn. Everyone has their own cool dial board for their answers to each challenge. Very cool.
Is it better than the regular Timeline card games?
Like I mentioned at the beginning, now that we have Timeline Challenge I don't know if we'll ever play the regular way again.
It's not that we don't enjoy the original way to play Timeline. Because we've really enjoyed playing all the versions of Timeline we have. It's just that with Timeline Challenge, the cards get used in a myriad of different challenges along the way that we really enjoy.
One of the mini-challenges in the game, called Sudden Death, does pit a couple players against each other in an original Timeline type face off. But other than that all of the challenges are pretty unique.
Our kids also enjoy Timeline Challenge more because there's less pressure on guessing the absolute correct date of an event. In the card games, players have to place their cards in the correct spot between other events. So after the timeline has grown a bit, it can be tricky figuring out exactly where to place their card.
But with Timeline Challenge, most of the challenges just require general ranges in history.
For example, as shown in Brooke's video review, with the Green challenge (Timeline 4), 4 cards are placed out and players must guess which general range of dates they each fall into. At the top of the board is a timeline with date ranges and a number associated with each range. So if a player thinks "Invention of Socks" is sometime around 1200, they would turn their dial to the number 2, indicating somewhere in the date range between 800 and 1300.
Likewise, in the Purple challenge (The Combination) players don't need to know exact dates, but rather just guess in which order the 4 cards should be placed chronologically.
Check out Brooke's video review to see how the other 5 challenges are conducted as well.
We don't have any favorite types of challenges within the game. But rather love that with each round the type of challenge can change – keeping things interesting the whole time.
How does Timeline Challenge score on our "Let's Play Again" game meter?
As you may have guessed, Timeline Challenge scores very well on our "let's play again" game meter. It's another game that's hard to play just once in a evening.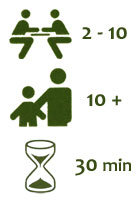 It's a quick game to play and the changing mini-challenges seem to fly by. There also really isn't any set up time at all. So when you get to the end of the game and see that there's still a huge deck of cards available and only a handful of cards have been discarded during play, it's so easy to just play again.
And since we have 4 other sets of Timeline cards (each containing about 110 cards), there's plenty of replay value with about 550 different cards for us to use.
(Oh, and I hope my kids don't see this but I also just bought Timeline: Music and Cinema for Christmas. So here's to another 110 cards coming to our table soon.)
Thanks Asmodee for another fun family game!
P.S. I also just noticed a Timeline: Star Wars version of the game. I don't think we'll care that the timeline in that game won't be compatible with all the other Timeline series (it's set in the timeline of the Star Wars universe of course). It looks like a fun game to play too.
Posted on December 6th, 2015