Ubongo – A game mom loves too!
The only video game mom has enjoyed is Tetris.
This goes way back to the day of the first Nintendo Gameboy system. She'll laughingly admit that Tetris was an addiction. She played it so much as a teenager that when she'd see road signs while driving, her mind would try to fit them into a Tetris grid. And her heart rate would jump if they wouldn't fit!
It's one of those family stories we always laugh about.
While those days have faded, the enjoyment of playing games with "Tetris-shaped" pieces remains.
So when I saw Ubongo by Thames & Kosmos, I had a strong hunch that it would be a game she'd love.
And sure enough, Ubongo has been a hit with our family and especially mom.
See if it's a board game your family would enjoy in Brooke's short video review of Ubongo.
Can the whole family enjoy Ubongo?
Absolutely!
Ubongo is definitely a board game that the whole family can enjoy. It's such a simple game to understand and play, that everyone can join in.
And better still, it's a game that people of different skill levels can also enjoy playing together.
As Brooke showed in her video review, each board is double-sided with a different challenge level on each side. One one side is a grid that will fit 4 pieces and on the other side is a grid that will fit 3 pieces.
So it's easy for adults and older kids to play the 4-piece side while the younger kids play the 3-piece side.
Ubongo also has a very simple scoring system. Players collect gems along the way and then just total up their gem value at the end of the game. But the fun in Ubongo is the personal success felt when each puzzle is solved.
The score at the end is more like a bonus since the enjoyment is all along the way.
In addition, Ubongo is a fantastic board game for developing minds.
Spacial recognition is a great skill for kids to develop. Ubongo is a game that kids will have fun playing without realizing that they're developing their minds at the same time.
And when they solve their puzzle faster than mom and dad do, they'll get a great sense of accomplishment and will want to play over and over.
How does Ubongo score on our "Let's Play Again" game meter?
Ubongo scores very high on our "let's play again" game meter.
Whenever it hits the table, we'll typically play multiple times in a row. Each game only lasts 9 rounds and since everyone plays simultaneously, every round plays really quickly with no player downtime.
And with practically no set up time, it's super easy to start a game right after one finishes.
The other thing we love about Ubongo is the variety of puzzles.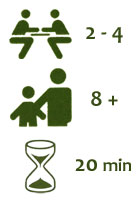 With 36 different double-sided boards, there's a large number of different grid layouts.
Not only that, but every board has 6 different sets of pieces that will fit within the grid. So every time you play, the grids you get as well as the pieces you'll use to fill the grid will differ – making it a new challenge every time.
Mom's love of the game should tell you all you need to know – Ubongo is a family board game we'll highly recommend to everyone!
Thanks Thames & Kosmos for a fantastic family board game!
Posted on September 23rd, 2015