New York 1901 board game review
It's time to travel back in time and build up New York City.
The year is 1901 and we've been commissioned to start building skyscrapers throughout New York City.
Welcome to New York 1901 – an awesome family board game from Blue Orange Games releasing this month!
In New York 1901 players compete to build them throughout the city and score the most points along the way.
While that may not sound like the most engaging theme, when you think about it, neither does building train routes. Yet, Ticket to Ride has skyrocketed to amazing success as one of the best family board games around.
And we're happy to report that New York 1901 hits that same sweet spot as a fantastic family game!
See for yourself in our video review:
Can the whole family enjoy New York 1901?
Like most family board games, New York 1901 is recommended for ages 8+. It has easy to understand rules, simple game play, great components, and a good balance of strategy and luck. All elements that make a great family board game.
Since players only have to choose between 2 options on their turn (Acquire Land/Build or Demolish/Rebuild), the game doesn't overwhelm players with lengthy game turns. So it's easy for kids to pick up as well. And gameplay moves along pretty quickly from player to player and there isn't much downtime between turns.
Having said that, there is still plenty of strategy and depth to consider while playing the game. For example, if a player chooses the option of Acquire Land/Build on their turn, that opens up another realm of choices:
Which district (color of lots) do I want to build in?
Which street do I want to build next to?
Which shape buildings do I have left to use?
How can I cluster my buildings now in order to make way for bigger, upgraded building shapes later?
Where can I block my opponents?
When should I use my extra action cards?
And it's that series of thoughtful choices that makes New York 1901 an engaging game to play.
Developing Minds
As we've written about before, one of the benefits of playing board games is the mental challenge and development. New York 1901 does a fantastic job in setting the stages for that development.
New York 1901 is full of elements that engage the brain while being fun to play.
The board itself is colorful and engaging. The goal of the game is clear. The scoring bonuses add strategic variety each time you play. The playing pieces are attractive and of high quality. And the building tiles are Tetris-like pieces that players must try to puzzle together.
So in addition to all the choices that we described previously, players must also utilize spatial awareness to make the most of those choices.
For example, one of the reasons we think Blokus and City Square Off are such wonderful family board games is because of the spatial reasoning that works different parts of the brain.
New York 1901 fantastically delivers on bringing that same mental function into the middle of a game with additional strategic choices.
How does New York 1901 score on our "Let's Play Again" game meter?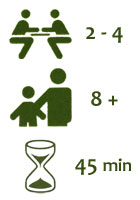 Just as we mentioned in the beginning, New York 1901 is a fantastic family board game. It hits on all cylinders with engaging play, great components, and the right mix of luck and strategy for a family game.
It's also a game that will get a lot of replays. With simple rules that are easy to remember, minimal set up, and variable bonus point goals, New York 1901 has a lot of replayability.
Blue Orange Games has been creating great kids games for many years (Spot It, Doodle Quest, Brave Rats, Yamslam, Battle Sheep, Gobblet). And now they've created a fantastic light strategy game that the whole family can enjoy together.
We highly recommend New York 1901 for families all over the world.
Thanks Blue Orange Games for such a great family board game.
Other great family board games and card games:
Posted on July 22nd, 2015