Best Games of 2014! – The Dice Tower Awards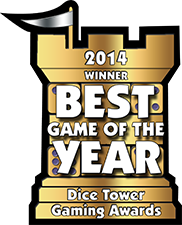 The best board games, card games, dice games, family games, and party games of 2014 have now been awarded!
With more than 3,000+ new games published in 2014, there's never a shortage to choose from.
But don't you fear! The 50+ top board game reviewers and podcasters around the world were up to the challenge.
And once again, we were happy to be a part of the selection and judging group.
Every year, The Dice Tower gathers recommendations from around the globe. Those games lists are then whittled down to the nominees.  After that, the judges try to play as many of those nominations as they can (if they haven't yet done so).
Then the final votes are cast and The Dice Tower Awards are announced!
Which just happened this past weekend – and here they are:
Best Board Games of 2014
Unfortunately we didn't get to play every game that won this year. But once again, knowing who nominates and votes in this annual award, we're confident that it's hard to go wrong with these top-notch board games.
We aren't surprised at all that Splendor won as Best Family Board Game of the Year. It's a very easy-to-learn game that can be enjoyed by the whole family.
The game that took the 2014 awards by storm – winning in 3 categories – is Dead of Winter: A Crossroads Game. We aren't huge fans of the zombie genre. In fact, you could say we're the opposite – we have not interest in zombie tv shows, movies, or games. However, Dead of Winter has caught my eye and I'm really itching to play it. One of these days, I'm sure I will.
It's no doubt that The Dice Tower Awards packs in a great list of board games to play with your friends and family.
Check out the top board games from years past:
2013 – Best Game of the Year Winner: Caverna: The Cave Farmers
2012 – Best Game of the Year Winner: Star Wars: X-wing Miniatures Game
2011 – Best Game of the Year Winner: Eclipse
2010 – Best Game of the Year Winner: 7 Wonders
2009 – Best Game of the Year Winner: Smallworld
2008 – Best Game of the Year Winner: Dominion
2007 – Best Game of the Year Winner: Race for the Galaxy
Posted on July 5th, 2015