Is Splendor a splendid family game?
Since the card game Splendor was released last year (2014), we've heard a lot of buzz about how awesome it is for a family card game. It seemed every board game podcast and review touted how great a game it is for families.
Since the votes seemed to be so unanimous, you can imagine how anxious we were to give Splendor a try. After all, that's what we're all about – finding fun board games and card games that families can enjoy playing together.
Thanks to Space Cowboys and Asmodee, we finally got our chance to find out if Splendor is indeed a splendid game for families.
And what did we find?
See for yourself in dad's video review of Splendor – what it's about, how to play, and what we think.
Can the whole family enjoy Splendor?
As you can see in our video review, Splendor is very approachable by families for a number of reasons.
First, the game play is very straight-forward.
Splendor is easy to introduce to new players. Players simply acquire gemstones and buy development cards on their way to getting the most points to win the game. And the cards you buy will help you get higher value cards in the future.
Second, the game flows rather quickly.
On their turn, players can choose to either take gems or take a card. With only a couple of options to do on a turn, there isn't much downtime between player turns. And since the game only goes until someone hits (or passes) the 15 point mark, it doesn't last long. Even with 4 players, the game is easily played in less than 30 minutes.
Third, players get to make tactical choices.
Having 12 development cards face-up to purchase may seem like a lot of choices. But in reality, the choices are rather simple. In the beginning, players will concentrate on cards in the first level (possibly the second). They'll start by taking gems that will let them buy a few of the less-costly cards.
Then once they have a number of development cards generating bonus gems for them, they'll start choosing from cards on the higher levels that will earn them points as well. And if they build up their development cards strategically, they'll also get visited by a noble who brings even more prestige points.
Lastly, there's still an element of luck.
Since it's a card game, there's always an element of luck in which cards turn up. A player may have their eye on a certain type of card/gem only to have it taken by another player just before their turn and the next card that comes up isn't as helpful. So the player must adjust a bit and carry on.
That's what keeps the game interesting as players race to get the cards they want. Since all players have their cards, points, and gems out in the open, it's also easy to figure which gems and cards they might be vying for as everyone races to the finish.
The suggested player age on the box is 10+, but we think younger players can also enjoy Splendor.
Great Components
Another plus for Splendor as a good, casual family card game is the fantastic components.
For starters the gems aren't made of cheap plastic. They've got some heft to them which makes them a lot of fun to handle. And they'll be handled plenty so that's a great thing.
The card art is also fantastic. We love the style of the artwork and we'll happily admit that we're taken in by nice-looking cards in a game.
Of course, we'll also admit that while playing Splendor we don't really imagine ourselves as rich merchants in the Renaissance. We really just concentrate on the icons on the cards (value, what color gem they generate, which gems are required to buy it) rather than what type of development the card may represent (mine, transportation, market, etc.).
Oh, and don't be afraid of the box front. Yes, the gemstone crafter looks pretty intense. But don't be put off. Splendor doesn't require that type of intense concentration to play.
How does Splendor score on our "Let's Play Again" game meter?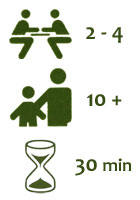 Splendor scores well on our "let's play again" game meter.
Because of the simple and quick game play and how easy it is to set up again, it almost seems natural to play more than one game in a sitting.
Splendor has also taken a readily-accessible spot in our game closet because it doesn't require refreshing a lot of rules before we play again. Often with strategy games we find ourselves needing a rules refresher before diving in again. Those games typically don't get a lot of replay time with mom.
Mom likes board games and card games that are easy to remember how to play, include some strategic choices, have some progression, yet don't take long to play. And games that mom likes to play definitely get a thumbs up from us.
So yes, Splendor is a splendid family game.
Thanks Space Cowboys and Asmodee for another solid game for families.
Posted on April 9th, 2015