Best Games of 2013 – The Dice Tower Awards!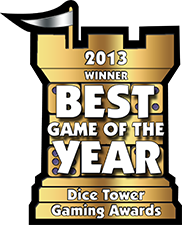 The best board games, card games, dice games, family games, and party games of 2013 have now been awarded!
With more than 3,000+ new games published in 2013, there were a ton to choose from.
But the 40+ top board game reviewers around the world were up to the challenge.
And once again, we were happy to be a part of the selection and judging group.
Every year, The Dice Tower gathers recommendations from around the globe. Those reviewers then whittle the lists down to the nominations. From there the final votes are cast and The Dice Tower Awards are announced!
Best Board Games of 2013
Of course, as is typical, we didn't have a chance to play every game that won this year. But even so, from talking to those that have, it's hard to go wrong with the board games on this winning list.
We heartily agree with Forbidden Desert winning as Best Family Board Game of the Year. It's a great cooperative game that family members of all ages can enjoy playing together. The game that won for Best Cooperative Game of the Year is one that we just recently reviewed – Freedom: The Underground Railroad – that's a tough challenge with a well integrated theme.
The Dice Tower Awards for best games of the year packs in a great list of recommended board games to play with your friends and family.
Check out the top board games from years past:
2012 – Best Game of the Year Winner: Star Wars: X-wing Miniatures Game
2011 – Best Game of the Year Winner: Eclipse
2010 – Best Game of the Year Winner: 7 Wonders
2009 – Best Game of the Year Winner: Smallworld
2008 – Best Game of the Year Winner: Dominion
2007 – Best Game of the Year Winner: Race for the Galaxy
Posted on July 8th, 2014