Top 11 Best Board Games for Family Gatherings
And with the holiday season comes lots of family gatherings.
And with family gatherings come…games!
We're very much looking forward to the family get-togethers ahead. Since we live in the USA, the first of the bunch is Thanksgiving. It's also one of our favorite holidays of the whole year.
We look forward to our extended families getting together for feasting and frivolity.
It's also anticipated that we're going to be the family bringing the games to the celebrations.
So what are the best board games to take to an extended family gathering?
Before we get on to the list, let's first define the criteria.
As we frequently mention, what the "best board game" is completely depends on who's playing. And for family gatherings, this criteria is very important.
The games will need to accommodate many players.
The games need to be easy to explain.
The games shouldn't last too long.
The games should be as inclusive as possible across a wide age range.
With that in mind, here are the 11 Best Board Games we recommend for your holiday family gatherings: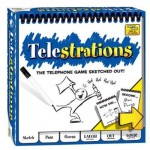 UPDATED: When we first posted this list of best games for family gatherings, we hadn't yet played Telestrations. We were getting a copy that week and we're excited to try it out. And as you can see, Telestrations is now the #1 game on this list!
Yep – Telestrations will go great at any family gathering. We've played it a ton since we got it and never seem to tire of it. The reason why is simple: because we laugh so much every time we play.
Telestrations is like a game of "Telephone" – the game where a person whispers in another persons ear, who in turn whispers to another person, and so on. Then see how messed up it gets after going through a number of people. But with Telestrations one person writes a phrase, the next person draws a picture of that phrase. Then the picture is passed to another person and they write what they think the picture is. Then it goes to another person who draws a picture of that new phrase. And on it goes. But unlike Telephone, everyone is writing and drawing the whole time – so there isn't any downtime waiting for it to come around.
Make sure to get the 12-Player Party version – because the more the merrier!
See our full review of Telestrations.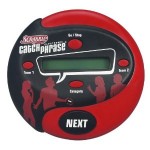 Catch Phrase has been our favorite party game for a long time. There are a lot of party games that give it a run for its money, but Catch Phrase has withstood the test of time. It's all about trying to get your team to guess a word or phrase and quickly pass it to the other team. Players are rattling off guesses as fast as they can to pass the device to the other team. Because once the timer goes off, whichever team isn't holding the disc gets a point. There are plenty of "get your teammates to guess the item" type games, but none seem to have as much pressure as Catch Phrase. The annoying time clock that expires randomly so you never know how much time you really have is perhaps the best element. And we love the new digital version so we don't have to squint so much. Lots of laughs.
See our full review of Catch Phrase.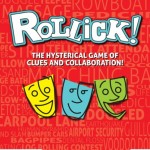 Rollick and/or Reverse Charades are the next games on our list because we always end up rolling with laughter when we play. They're both similar charades games in that instead of one person acting out something for their team to guess, Reverse Charades has the team acting out something for one person to guess. This simple change is great because anyone who doesn't like performing in front of a group doesn't have to worry with this party game because they can just blend right in. It's hilarious fun! Watching 4 people trying to act something out in different ways not only leaves the guesser scratching their head, but it leaves everyone else howling with laughter.
See our full review of Rollick and Reverse Charades.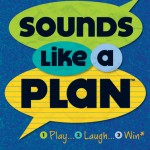 What's the best advice your grandma would give you if you wanted to fry an egg on the sidewalk? Or what advice would a kid give you for building a time machine? Sounds Like a Plan is a terrific board game for the whole family to enjoy. If you're familiar with Apples to Apples, you'll know the basic game play – everyone throws in a card for their answer and the judge picks the one they like the best. However, the great thing in Sounds Like a Plan is that instead of just picking 1 response, the judge ranks them in order of preference. So the top answer awards 5 points, the next 4, and on down the line. We love that scoring because people don't get left behind. But the real fun in the game is the funny combinations of "To-do" lists and the responses.
See our full review of Sounds Like a Plan.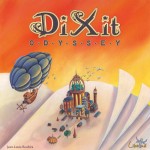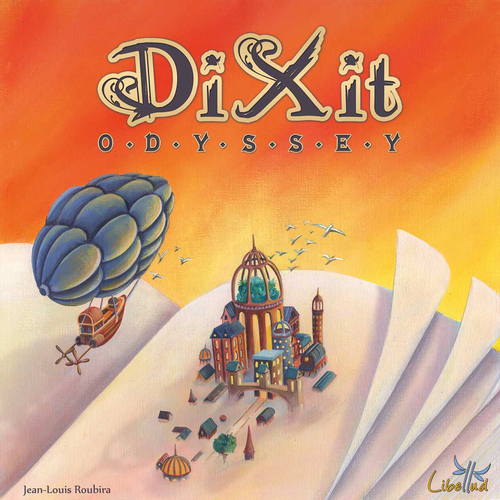 Dixit is a fantastic group game! Every card has extremely interesting artwork that drive the game. Players take turns being the storyteller mentioning something about their card (which is kept secret). Then the other players pass in a card of theirs that may fit the created description. Then all cards are mixed and turned over and players vote on which they think the the Storyteller's card. Points are awarded and the next person becomes the Storyteller. The original Dixit game was awarded the Spiel des Jahres winner in 2010 (Best Game of the Year) – which obviously helped it become so popular and spawn many expansion games. But if you've got more than 6 players, you'll definitely want to go with Dixit Odyssey.
See our full review of Dixit Odyssey.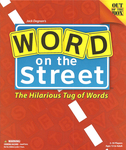 Word on the Street is a great team-vs-team party game. Party games that are set for 2 teams to go at each other can always create some fun competition. Teams compete to create words that will pull the letters to their side of the board/street. Get 8 letters off the board on your side and your team wins. What makes Word on the Street a fun word game is that there really isn't a lot of pressure on one person. If one person is having trouble coming up with a well-fitting word to get more letters to their side of the street, chances are good that one of their teammates can come through for them.
See our full review of Word on the Street.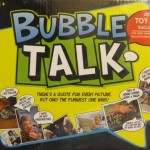 Bubble Talk is a fun game to play with your family or when you have some friends over for a party. Bubble Talk is full of crazy photos and funny captions that can bring a lot of laughter when you start combining them. Explaining how to play takes less than a minute and you're off and rolling. And if you've played Apples to Apples, then understanding how to play Bubble Talk will take less than 10 seconds. The difference though is that Bubble Talk brings a lot more laughter as you match up crazy captions with silly photos.
See our full review of Bubble Talk.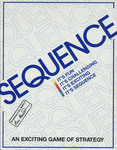 Sequence is a staple at our family gatherings. You may think that a simple game of playing cards and placing chips on the board to match that card would be boring. But the beauty of Sequence is that any number of people can play. And it's such a light game that conversations can continue. It's great to team up and work together to get your rows complete – even when you don't have a clue what cards your teammates hold. And since a lot comes down to luck of the cards, it's great for families of all ages.
See our full review of Sequence.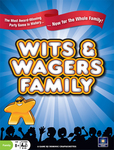 Have you heard about Wits and Wagers before? Well, if not you should know that it's been an award winning party game since its release in 2005. But the really great news is that there's a version tailored specifically for families – Wits and Wagers Family. It's a trivia game where you don't need to know the answers to win! Players write their answers to the numerical trivia questions, but then can place their wagers on whichever answer they'd like. So if you think Uncle Bob knows the answer, simply place your markers on his answer. If his response is the closest without going over, then you'll get points for your wager. Great family fun.
See our full review of Wits and Wagers Family.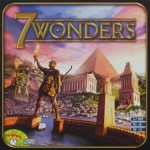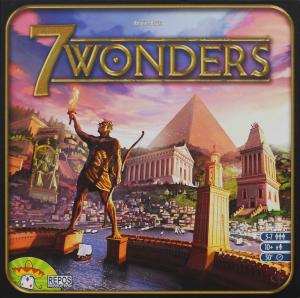 It may seem that 7 Wonders may not fit on this list because it's limited by only allowing up to 7 people to play. But we still think it's great for family gatherings. Just be sure you've got a table big enough. It's the most complicated game on this list, but there needs to be some meat at a family gathering. The big seller on 7 Wonders for a family gathering is that everyone is making decisions simultaneously. Plenty to think about while it moves along quickly.
See our full review of 7 Wonders.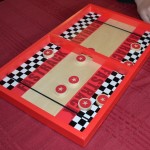 And the last game on our best board games for family gathering list is a 2-player dexterity game. Fastrack is a great game to leave out on the table because it's so tempting to just sit down and play a quick game – or more likely the best 2 out of 3. And once a couple people sit down to play, others will gather around to watch and call to play the winner. Keep this one out on the table and it will get played a bunch. Great for family gatherings. Many challenges to follow.
See our full review of Fastrack.
With so many great party games and family board games to choose from, these are the tried and true best board games that we know our families will enjoy playing together over the holidays.
What games are a hit at your family gatherings?
As the leaves fall off the trees and Halloween passes us by, the Holiday season is definitely in the air.
Posted on November 5th, 2013