We just Can't Stop! rolling the dice
Gryphon Games
. Can't Stop is a dice game that's all about simple fun.
With the outcome of every turn being decided by a dice roll, you won't find any deep strategy in Can't Stop. Sure you'll have decisions to make, but they're choices of the moment and you'll just have to do the best you can.
But the real fun of Can't Stop is all about taking chances and seeing how far you can get each time without busting.
We recommend you check out Caleb's video review of this fun family dice game to see what it's all about and how to play.
Can the whole family enjoy Can't Stop?

Even though the game box shows recommended ages of 9+, we think Can't Stop can be enjoyed by most everyone in the family. Since players do need to be able to add the pips on the dice, you won't want to play it with toddlers. But it does seem like a great way to help youngsters with their addition and exploring possible combinations.
Since Can't Stop is all about the luck of the dice rolls, it also gives kids a great chance to beat their parents at a game. Even when it's not their turn, kids will be hanging on each roll of the dice hoping their parent goes bust.
Great game components!
We love the use of the giant stop sign for this game! In reality, Can't Stop is just a game of odds with dice combinations. But combining those odds with a stop sign game board is fantastic. The highly contested center of the board with 6, 7, and 8 are fun to make a run on. They're nice long columns with plenty of chances to overtake opponents or take your chances in going all the way in one turn. And the less frequently rolled 2's ans 12's don't have many spots – giving you a great chance to move up quickly if you can roll them.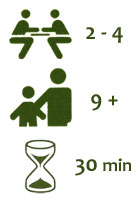 The use of traffic cones for the playing pieces (markers and runners) is also a fantastic way to roll with the stop sign theme. They're bright and colorful and stack perfectly together. We love stopping on spots with opponent's markers just so we can stake our claim and put our marker on top of theirs. Simple pleasure.
How does Can't Stop score on the "Let's Play Again" game meter?
Can't Stop scores very high on our "Let's play again" game meter. It's a great dice game of simple game play with lots of fun taking chances. When we're feeling lucky, there's not stopping us. There really isn't any set up time so it's easy to pull out and play. It's also very easy (and always tempting) to play again immediately after one game ends.
Just don't play it right before bedtime because your kids will definitely call for "just one more time" way past their bedtime.
Other dice games you might enjoy:
Interested in what others think of Can't Stop?
Check out these other opinions:
* Games With Two review of Can't Stop
If you like to press your luck and like to roll dice, then you're going to love Can't Stop by
Posted on September 20th, 2012