7 Wonders = Wonderful
Have you ever wondered what it would have been like building the amazing wonders of the world? What if you lived in those ancient civilizations? Do you imagine slaving away at their construction or commanding those that did?
What if you could play a game that took you back in time, put you in that setting, and let you build those wonders and civilizations in less than 45 minutes?
7 Wonders set out to do just that.
But does it deliver?
Check out this video review by Caleb (9 yrs old) to see. And because 7 Wonders looks intimidating at first glance, this review goes a little deeper. Rather than just scratching the surface, Caleb goes over more than what our reviews typically cover. He covers How to Play, the Cards, and the Scoring with enough info to get you started.
What's so great about 7 Wonders?
There was a lot of buzz when 7 Wonders was released near the end of 2010. The hype machine seemed to be in overdrive. And many people were wondering if the game could really be as good as the hype indicated. And I was one of those skeptics.
I'd see pictures of the game and think it looked complicated – cards with all sorts of different symbols stacked and laid out in many different piles covering the table. You can see what I mean from this picture here – which is only a 3 player game. Pictures of a finished 7 player game seemed overwhelming.
So I thought I'd wait this card game out. I'd wait until the hype had died down and see if people were still talking about it a year later with the same excitement and enjoyment. As such, it was a year later when I finally sat down to try a game myself. And sure enough, that first play took a little time to get rolling. But once we'd played through and were familiar with the cards and symbols we were anxious to play again. And before you know it, 7 Wonders was on my Christmas wish list.
And I'm glad it made it under the Christmas tree!
Here's 4 reasons why we think 7 Wonders is a great card game:
1. Simultaneous Play
What we like most about 7 Wonder is the simultaneous decision making and play. In most games, when it's a player's turn, the rest of the players sit and wait for them to make a decision. But in 7 Wonders, everyone is making decisions at the same time. You're all deciding which card to select from your hand and play at the same time. Then the hand of remaining cards passes to your neighbor and you make another decision. So there isn't any down time during the game. You're spending the whole game playing rather than waiting. Awesome!
2. Play Time
And because of the simultaneous play, the game goes by rather quickly. In 30-45 minutes you've built up your civilization and you're ready to compare it to your opponents. But because you're actively making decisions the whole time, the game doesn't seem to last long at all. In other 30 minute board games or card games you may spend half the time sitting and waiting. Not with 7 Wonders. It's full play time.
3. Number of Players
The first two reasons actually pave the way for this 3rd reason. Since everyone is deciding and playing at the same time, you can add more players and it won't add more time to the game. And when you need to buy resources from others or compare military strength, you only need to look at the players to your immediate right and left (your neighboring civilizations). So a game with 7 players doesn't extend the game. And with a family of 6, this also means that everyone can play together!
4. Theme
While I never really get the sense of living in and building up ancient civilizations and slaving away at the wonders, the theme is a fun one to center this type of game around. The theme gives reason for getting your resources in place, interacting with your neighbors, and the different paths to victory. Sometimes hearing "civilization building game" can sound boring. But the pace of the game play in 7 Wonders isn't boring at all. It makes it fun to build a civilization.
Can the whole family enjoy 7 Wonders?
Almost. On the game box, the recommended age for 7 Wonders is 13+. But many sites online (including BoardGameGeek) indicate 10+. We think 10+ is pretty accurate. Because of all that's going on in the game, youngsters will have a hard time with it. However, based on the experience of the kids in your family, you may try including those a little younger than 10.
As you can see in Caleb's video review, because of his experience playing games with many things going on to keep track of, he doesn't feel overwhelmed with the game at all. And in the game we played while doing the review, he pulled out the victory.
So if you're trying to decide if your little tikes can handle it, watch the video review to get a more detailed view then play it once yourself. You'll be the best judge for your crew.
What about mom?
If you've watched or read many of our reviews, you'll know that mom likes games that have more luck involved. She favors games where the playing field is leveled by elements of luck. She's not as interested in a number of strategic board games or card games that others in our family really enjoy like Small World, Thunderstone, Lord of the Rings the Confrontation, or Hive (which she actually just doesn't like the "creepy spider").
So having her give 7 Wonders a try was a gamble. But telling her that I thought she'd actually like this card game and catching her in a weak moment, she agreed to give it a try. As I explained the different types of cards and symbols to her, her eyes started glazing over. And as she stared at her first hand of cards, the look of confusion was very apparent. But since I was familiar with that feeling (typical of the first play), I knew to just forge ahead.
Sure enough, after getting a few cards out in play, the confusion started to dissipate. And by the end of the 2nd Age, she was really into the game and enjoying it. A big thumbs up!
There are elements of luck in the game because you're dealing with cards. But it's that variability of what cards will come your way that keeps the game interesting throughout and changes every time you play. Combine that with the constant decisions to make and you've got a great game even for mom.
Great for game groups too
7 Wonders has been a hit with my game group as well. We have a group of guys that get together one night a month to play games and since getting 7 Wonders to the table, it's been played every time.
Again, it's great because it works as well with 3 players as it does with 7. And the more familiar everyone becomes with the game, the smoother it flows. Add to that the competitive nature you get with a group of guys and you've got a fun game experience.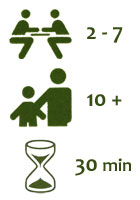 How does 7 Wonders score on the "Let's Play Again" game meter?
7 Wonders scores very high on our "Let's Play Again" game meter. Even with all the cards, it doesn't take long to set up. And once you're familiar with the types of cards and the symbols, playing a game goes by quickly as well. We've placed 7 Wonders in an easy to reach location on our game shelves because it's getting a lot of repeated play. It's a safe bet that 7 Wonders will be in our top 5 of games played most this year.
Update: We've added more to our 7 Wonders playing with the expansion 7 Wonders: Cities – check out our review!
Interested in what others think of 7 Wonders?
Check out these other opinions:
* Board Game Reviews by Josh review of 7 Wonders
* Play Board Games 7 Wonders review
* iSlaytheDragon also thoroughly reviews 7 Wonders
Posted on May 9th, 2012