Pentago – Strategy with a Twist
Many abstract strategy board games have the objective of getting 5 in a row. And in that regard, Pentago is like many other games. However, there's a twist to the game that makes Pentago unique – quite literally a twist.
The Pentago board is pretty cool. It's made up of 4 quadrants that are twisted as you play the game – giving the game an added measure of strategy.
The rules are very simple to grasp – play a marble, twist a tile. But when you can get 5 in a row horizontally, vertically, or diagonally and the board keeps changing, it will take some wits to maneuver your win.
Check out how cool it is in Caleb's video review.
Can the whole family enjoy Pentago?
Yes – the whole family can enjoy Pentago.
The recommended age is 8+, but we think younger kids can enjoy it too. Even young kids will enjoy placing their marbles and twisting the board. Sure, they may not plan out a lot of deep strategies, but they'll enjoy playing.
Older kids and adults will really enjoy it as well. Trying to plan out winning moves while also keeping an eye on your opponent's moves can be pretty tricky – but a lot of fun. And inevitably you'll find yourself overlooking something that will come back to get you.  The trick is to learn as you go, so those times are less frequent.
With how easy the game board itself stores the marbles, it's also easy to take with you on the road. Just grab it and go. Since the marbles may squirm away, it's not a game that we plan on taking with us on a scout camp like Hive, but its' definitely a game that boys that age will love to challenge each other with.
How long does a game of Pentago take to play?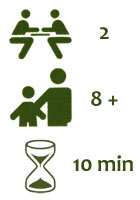 As you can see in our quick demo game in the video review, games don't take long to play at all. Of course, most games last longer than the one in the video, but not by much. But we'll also never stop with just one game. In fact, the rules also suggest playing Match play – playing multiple games in a row and the winner is the best out of 5.
How does Pentago score on the "Let's Play Again" game meter?
Pentago scores high on our "Let's Play Again" game meter. Because it's so simple to play, it's easy to play over and over. And the "best out of 5" can easily turn into the best of 7 or best of 9 or…
It really is a great 2-player strategy board game that will help develop your mind.
Other 2-player strategy games you might enjoy:
Posted on January 16th, 2012