Demolition fun in Knock Your Blocks Off
It's a given – kids love to destroy things. And they especially love destroying their siblings' creations.
You know how it goes, one child builds a cool block building or train track and then their siblings runs in and destroys it. The first child then comes running to you in tears demanding that you dish out justice.
Well, now there's a game that takes this natural tendency and turns it into a game – Knock Your Blocks Off. Way to go Gamewright!
Caleb and Jaden demonstrate how it's done in their short video review of Knock Your Blocks Off.
Can the whole family enjoy Knock Your Blocks Off?

Absolutely! The kids will love building and then destroying each other's structures. And parents will love that no crying and demands for justice are present.
Actually, parents can have fun building and destroying too. And what kid won't love to take a shot at dad's tower? Of course, in our family we can't all play at once because it only plays up to 4 players. But that's ok, because that's the perfect amount for our 4 kids to go at each other.
How much luck is involved in Knock Your Blocks Off?
Not much. Sure there's luck based on the roll of the dice, but after that point, it's all about choosing what type of structure you want to build and seeing how fast you can build it. Then there's another dice roll to see how you can attack another structure. But no matter what you roll, being able to knock over their structure will depending on skill.
And kids love games where they get to show off their skill in demolition. Whether they get to flick the demolition die, toss it, or drop it from above, they just love to take a crack at each others' structure. And if you need to make it more balanced for the different ages, simply institute the rules about how far away each child needs to be when they make their demolition attempt.
How does Knock Your Blocks Off score on the "Let's Play Again" meter?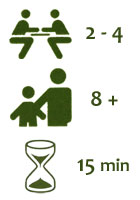 Knock Your Blocks Off scores high on our "Let's Play Again" game meter. This is a game that our kids can't seem to get enough of. Once they start playing, they'll keep at it for quite a while.
Thanks Gamewright for taking a natural tendency of kids and turning it into a great kids game!
Other kids games you might like:
Posted on November 12th, 2011