City Square Off – 2-player puzzle fun
City Square Off gets a rare 5 out of 5 rating from mom!
That's right. There's no sense beating around the bush on this game review. We'll just tell you straight out that it's a hit.
Another great job Gamewright!
Now, that doesn't mean that mom wanted to do the video review, but City Square Off is now one of her favorite family board games.
Instead, Caleb and Brooke tell you what they think of City Square Off in their short game review.
Can the whole family enjoy City Square Off?

We've already given this one away, but yes they can. From young to old, we think players of all ages will enjoy City Square Off.
I think it's a hit with mom for a couple reasons. The first reason I thought of is that it's kind of Tetris-like. And for someone that doesn't care for video games, Tetris was the exception. Growing up it was mom's favorite video game. She tells stories of seeing signs along the road as her family would drive along and thinking, "oh no, I can't make that fit." That's when she knew she was addicted to Tetris. And since City Square Off is all about making the pieces fit in the most efficient manner, it struck a familiar fun cord with her.
The next reason is that even though it's a two player game, and you're challenging each other, it's non-confrontational. That is to say that when you place a piece on your board, it doesn't take space away from the other person. It's more of a puzzle battle rather than an elimination battle.
The third reason is that it's short. You can play a game very quickly – which is great for a busy mom. There isn't any set up time other than each person taking their board and colored pieces. Just open the box and you're pretty much ready. Then you can play as many games as you have time for. (Not to say that's it's easy to stop playing once you've started.)
And as far as the kids go – they love it too. They love the mental challenge in City Square Off. Caleb even loves playing it all by himself – trying to get every spot on the grid filled before going off the edge.
How much luck is involved in City Square Off?
L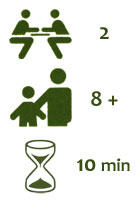 ike with many games that involve cards, luck plays a part in the game. But in City Square Off, that's what keeps the game interesting. Since there are more pieces in the game than will all fit on the grid, the order in which the cards are played will make a difference in the outcome. So the mental challenge comes in how well you place the pieces presented on each card as you go along.
How does City Square Off score on the "Let's Play Again" meter?
City Square Off scores very high on our "Let's Play Again" game meter. Like we mentioned before, it's a great, quick mental challenge that takes just a few seconds to set up. So it's very easy to play over and over. Once it hits the table, it will be there for a while.
Thanks Gamewright for a great family board game that even mom can't seem to get enough of.
Other family board games mom loves:
Posted on November 21st, 2011