Memoir '44 – Our finest hour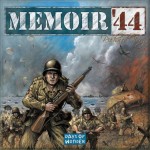 Have you ever played a "war game" before?
Until Memoir '44 our family never had. We'd never really been interested in the war game genre before. So I think the boys were kind of surprised when dad got Memoir '44 for his birthday and challenged them to a game. They didn't seem too excited the first time they sat down to play. In fact, they may have seen it as a chore that they were doing just to appease dad.
But that didn't last long, because after 1 play they were hooked.
And you'll see why in this Memoir '44 video review by Jaden.
Can the whole family enjoy Memoir '44?

If someone in your family likes the head-to-head nature of 2-player board games or card games, then we'd definitely recommend they take a look at Memoir '44. While Memoir '44 may not be for the younger tikes, others should enjoy it. The publisher, Days of Wonder, recommends ages 8+ and we think that's pretty accurate. Our 8 year old son, Caleb loves this board game as much as the older boys do.
The other question to answer though is, "will the females in the family enjoy it?"
If your family is like ours then you may find this is a board game that the males will gravitate towards the most. After all, even though we've logged over 25 plays of Memoir '44 in only our first couple months of having the game, mom and Brooke haven't played a single game.
They've been invited. But when the game is all set up and they're asked to sit down and play, they just say it doesn't look interesting or fun to them and they head off to do something else. So that may be the case with your family as well. However, from what we read on BoardGameGeek, there's still a gazillion (we think that's an accurate count) females that do love playing Memoir '44.
"But I don't like war games."
Memoir '44 is the first "war game" that we've ever played. As we've seen many war type board games in the past, none have really called out to us to give them a try. We just haven't been interested in the genre. I can't really put my finger on it, but they were just games we'd pass by. And maybe you're thinking the same thing.
"They look complicated."
"They look like they'll take a long time to play."
"They look boring."
Well, guess what? With Memoir '44 that isn't the case at all.
It's very simple to play, can be played in 30 minutes, and is a lot of fun.
Memoir '44 is simple to learn
As you can see in Jaden's video review, playing the game is pretty straight forward. The scenario book makes set up very easy as you place terrain tiles and units on the designated hexes on the board depending on the scenario you choose. And the game play is simple too – you play a card, move a unit, and battle (if you choose). Yes, every unit can move and battle differently and each terrain may have special elements as well. But there are plenty of well-written reference cards that provide great in-game help if needed.
So once you have the basics down, you're off and running.
Since it's a war game, does it promote violence?
Memoir' 44 is typically classified as a war board game. But we don't feel that it promotes violence or war. We'll be the first to admit that we really dislike all the violence in video games that seem to glorify it. But when playing Memoir '44 we don't get any sense of violence. Yes, we know the battles are based on famous World War II battles in Europe. But those really just give place for setting the stage.
After all, there are hundreds of board games that rely on eliminating player pieces. Just because you knock your opponent out of the game doesn't mean it promotes violence.
Does the ever popular childrens game Battleship promote violence? What about Chess where you conquer by elimination. Or the fun kids game we've reviewed – Ninja versus Ninja?
So in all this regard, we think Memoir '44 is just great 2-player, head-to-head fun.
How much luck is involved in Memoir '44?
One of the reasons that Memoir '44 is such a good family board game is because of the mix of strategy and luck. Since it falls in a war game category, some criticize the game as not being purely strategic. We, on the other hand, like it because of the luck involved. The game plays out different every time.
You may plan a strategy to move up the right flank and attack from behind. But if you don't draw any cards that let you order units in your right flank, then you'll have to adjust. Or you may move in close and the dice you roll don't knock your opponent out like you'd hoped. That's just the way it goes and you'll have to roll with it.
We think this balance of strategy and luck makes for great replay ability and levels the playing field – which is great in a family board game.
How does Memoir '44 score on the "Let's Play Again" meter?

Memoir '44 scores very high on the "Let's Play Again" board game meter. As we mentioned, in just a couple months we've already played over 25 times. And we haven't even tried all the different scenarios in the book yet. While we love how quick one game can be played, at times we wish they'd last longer because we feel like it ends just as we're getting rolling. So we just can't stop ourselves from setting it up and playing again.
Another thing to mention about Memoir '44 is that there are a bunch of expansions for it – so the challenges can just keep mounting. Check out two of the expansions that we've posted reviews of:
Posted on July 1st, 2011