Best board game videos around
We like doing video reviews of board games that the whole family can enjoy. We like to give you a glimpse of different board games from the perspective of our children. Hopefully they introduce you to board games and card games you might not have heard of before and help you get a better idea of what your family might enjoy playing.
We've loved hearing from families around the world about new board games they've picked up because of our reviews and the fun times they're spending together as families playing games.
But we don't kid ourselves into believing that we make the best board game videos out there. Ours serve a purpose for a particular audience and we're glad it helps. But if you're looking for more in depth videos, have we got a source for you…
Drakkenstrike Videos
If you're after in-depth videos of board games, then you need to take a look at Drakkenstrike Videos. Officially called "Components Breakdown Video Review Series in HD" we think the Drakkenstrike videos are the best around.
They show extensive views of every component of a board game as well as game rules and play. And they're produced with exceptional high quality.
Closing in on 100 board game videos, Drakkenstrike videos mostly cover board games that are considered "gamer games". But that doesn't mean that he doesn't cover family board games as well.
In fact, here are few videos of family board games that we're interested in playing this year.
Rattus

Tikal II

Isla Dorada

Antics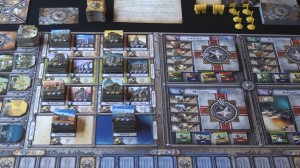 But of course, it's hard for me to stop there because there are quite a few other board and card games that I'm anxious to try as well. And seeing the Drakkenstrike videos of these games only makes me want to try them even more.
Merchants & Marauders
7 Wonders
Middle Earth Quest
So if you're interested in more in-depth board game videos, or perhaps are looking for some more involved board games, you really need to check out the Drakkenstrike Video series.
Other articles you might like:
Posted on March 17th, 2011