Carcassonne – a fun time in the countryside
If you haven't played Carcassonne yet, then you've been missing out.
If the only family board games you've played are Monopoly, Life, Battleship, Chutes and Ladders, and the like, then you've got a whole new experience waiting for you.
Check out our Carcassonne video review to see how unique a board game it is.
Can the whole family enjoy Carcassonne?
Absolutely. If you can match one tile to the next, then you can play Carcassonne. And everyone loves taking part in building the board as they go. Every time you play, the countryside takes on a different look and delivers a new experience. It's never the same board twice.
It's fun for all ages to play – youngsters will love simply matching pieces, building the board, and playing with their Meeples, while older players will see the strategic aspects and go for points.
Take our word for it – you really want this game in your family game collection.
We'll also warn you that there are expansions for Carcassonne. We've picked up a few ourselves and they're fun to play too. In fact to do this board game video review, we had to pull those pieces aside since we keep them all bundled together.
Update: We recently posted our review of 3 expansions for Carcassonne:
Carcassonne as a Gateway Game
What's a gateway game?
If you haven't heard the term before it refers to a game that's used to break the ice into a new type of gaming experience. They're the games that open the gate to a new world of board games.
So if the only games you've come across are those you see in Target, Walmart, or Toys R Us, then we recommend you broaden your horizons. And we hope our site helps you get a taste of all the games that await you once you step into a board game store. Just walk through the doors of your local game store and you may be amazed at what you'll find.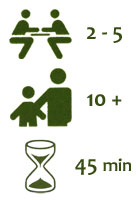 Or hop on over to our sponsor sites and grab a game without leaving your seat.
What are you waiting for?
Carcassonne = Great game, great game mechanics, great pieces, great fun!
And you can get it for a great price!
Other great family board games:
Posted on March 12th, 2010