If your kids love cute farm animals, then it's likely they'll enjoy My Happy Farm.
Kids will love feeding their animals to make them grow. And while they're making their animals happy, they'll also be developing some great thinking skills. (But they don't need to know that.)
As kids grow up, the types of games they're interested in will change. And because our kids are all in double-digit ages, a lot of the games we review tend toward those with strategic elements.
But since we have readers all over the world looking for games for younger kids, we need to keep reviewing games younger kids will like as well.
My Happy Farm is one of those games.
Can the whole family enjoy My Happy Farm?
The artwork on the game box is a great indicator of who will like the game. While the recommended ages for the game show 8+, we'd say My Happy Farm is a game well suited for kids between 7-13.
The animals in the game are very cute. And as players feed their animals, they grow….and grow…and grow – getting visibly longer (and cuter?) throughout the game. The longer they are, the more points they'll be worth at the end of the game. It's a very visual way to know who wins the game.
Kids will love it.
But getting food for the animals requires a few steps. Players have to make a number of choices along the way to make their animals happy. Which make My Happy Farm a great game for kids learn and improve their reasoning and decision skills.
How to play My Happy Farm
Every player starts with a head and tail segment of 4 animals, 2 coins, and a player board (barn & farm).
To feed the animals on their farm, players follow a simple process: buy seeds in the market, plant the seeds, harvest the crops in the right season, store the food in the barn, and then feed their animals or sell the food for money.
With all those steps, and only getting to use 2 actions on each turn, there are a lot of choices to be made. Players have to choose which actions will be most helpful each turn.
At the start of each turn, a player first moves any previously planted seeds from one season to the next near their player board. Then they get to choose 2 different actions to perform from these 6 available:
Buy Seed Cards
Plant Seed Cards
Harvest Seed Cards
Sell Seed Cards
Take a Coin
Feed Animals
Buy Seed Cards
The market will have 6 seed cards for purchase at all times. The active player can buy up to 3 cards from the market for 1 coin each and put them in their hand. (Limit 6 cards in hand.)
Plant Seed Cards
The active player places 1 or 2 seed cards of any type, or 3 seed cards of the same kind next to Spring on their player board.
Harvest Seed Cards
The active player takes seed cards from either the Summer or Autumn spaces by their player board and put them in the barn. Carrot and Clover cards can be harvested in Summer and Autumn while Hay and Beet cards can only be harvested from the Autumn row. (Limit 6 cards in barn.)
Sell Seed Cards
The active player discards one or more cards from their barn and receives the total number of coins shown on the bottom of the cards.
Take a Coin
Pretty simple. The active player takes 1 coin from the bank.
Feed Animals
This is what players are ultimately after. The active player discards cards from their barn matching the symbols listed on the body card of the animal they'd like to feed. For example, if a body segment has 2 beets, 2 carrots, and 1 hay symbol, the player discards those 5 cards from their barn to feed that animal. They take the body segment and add it to their animal of that type – helping it grow.
Only 6 body cards will be available to choose from each turn. Once a segment is taken, a new body/feeding card is drawn to replace it. When these segment cards can't be refilled, the game enters its final round – where everyone (but the player who triggered the end) will get 1 final turn.
Players then add up the points on their animal cards to see who wins. If an animal hasn't been fed, then that player subtracts 5 points (as shown on the unhappy animal face). Players who have the longest of a type of animal turn over the tail end to display a 3 point bonus.
As you can see, there's a lot for players to think about as the game progresses. But they'll be engaged in the game trying to get food to their animals that they may not even realize they're learning to make strategic choices.
What a fun way to develop those skills!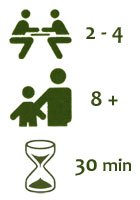 How does My Happy Farm score on the "Let's Play Again" game meter?
My Happy Farm didn't score high on our "let's play again" game meter merely because our kids are past this stage of development. Our teen boys also aren't drawn by the cute farm animals.
But if we were to roll back the clock 10 years, then yes, this would be a game that I could see us pulling out frequently to play.
Thinking through the process of buying, planting, growing, harvesting, selling, feeding, and managing coins in this fun way is a great way to engage your kids in skills development. But the best part is that they won't even notice they're developing any skills. They'll just be having fun.
Thanks 5th Street Games for an enjoyable board game for families around the world.
> Receive New Board Game Reviews and Articles in your Email