Have you ever wondered how high a rhinoceros could climb?
Well, neither have we.
Until we got a copy of Rhino Hero.
Now we try to push the limits to see how high that little Rhino can get.
How to Play Rhino Hero
Rhino Hero is a card stacking game – like building a house of cards – but with special challenges.
In Rhino Hero, players compete to be the first to get rid of their roof cards. The first player to do so will win the game.
That is, if he/she has a chance to play all their cards. Because the game may also end with a building collapse. If it does, then the person with the fewest roof cards left wins the game.

So how does a person get rid of their roof cards?
Simple – by building another floor of the building.
Each player begins the game with 5 roof cards (or 7 in a 2-player game). In turn, players build floors of the building using 1 or 2 walls from a common pile and a roof card from their hand.
The starting ground floor card, as well as each roof card, indicates how many walls are required for the next floor as well as the position of those walls. So the player puts up the walls as indicated, then chooses a roof card from their hand to play on top for the next player to continue building upon.
Some roof cards have special symbols. When placed as a roof on a building floor, the action is triggered.
Change direction (circular arrows) – play continues in the opposite direction
Skip (!) – the next player loses a turn
Additional card (+1) – the next player has to take another roof card into their hand
Double roof (2x) – a second roof card can be played on it
Rhino Hero (rhino icon) – the next player must place the rhino on that spot before building
As you'd expect, since the game is called Rhino Hero, placing the rhino on different floors as the building gets higher and higher adds spice to the game. The rhino is made of light wood, but still adds weight to the building as he climbs – making the structure more precarious along the way.
Which is where the silly fun is.
Sure it may be fun to build a building of cards. But it's more fun when you've got a super rhino moving from floor to floor.
And that's all there is to the game.
Simple and fun.
Can the whole family enjoy Rhino Hero?
You bet!
Even though Rhino Hero is definitely a children's game, everyone in the family can enjoy playing together. Kids love dexterity games where they can test their ability to maneuver things.
Kids love games where they get to build things as well as see them crash.
And kids also love games where they have a chance to beat their parents. You'll see the happy smirk on their face when they place a roof card that requires their mom or dad to place the rhino on the edge of a roof card 7 floors up – in joyous anticipation of seeing their powerful parent cause the building to fall.
Of course, Rhino Hero can also be played without any children present…
The Cards
Like every HABA game we've played, the components of Rhino Hero are top quality. Haba makes great children's games. And because they're meant to be played by kids, the components need to be durable and easy to handle.
And the cards in Rhino Hero follow in those same footsteps.
The cards are thick and durable to withstand many repeated plays. This is especially important because the wall cards need to be bent to create each floor of the building. And they do the job fantastically well.
The cards are also full of cute artwork with animals and flowers in the windows to make it a pleasing sight as the building goes up.
How does Rhino Hero score on our "Let's Play Again" game meter?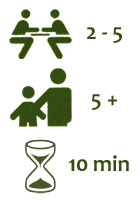 Rhino Hero is yet another game that we don't ever see being playing just once. With how simple and quick the game is to play, everyone agrees to playing again and again.
Of course, being a simple and quick game to play in and of itself isn't necessarily a guarantee of people wanting to play multiple times in a row. But Rhino Hero is also fun.
And that's really why we like playing it more than once.
Thanks HABA for another fun children's / family game!
And if you're looking for more children's games from HABA, the most popular include:
Other fun family games you might enjoy:
> Receive New Board Game Reviews and Articles in your Email