When we first got copies of both Batman Fluxx and Adventure Time Fluxx, I thought for sure our boys would flock to Batman over Adventure Time Fluxx.
But I was wrong.
I was quite surprised when they said Adventure Time Fluxx was the version they liked the most.
Maybe it was because the Adventure Time version put them in a silly mood. And being in a silly mood goes well with playing a Fluxx game.
For those not familiar with Fluxx, the first thing you need to know is that change and randomness abound. As the name implies, everything is constantly in flux.
Not only will the rules change throughout the game, but even the goal of the game will constantly change.
But that's ok, because sometimes random is good.
How to play Adventure Time Fluxx
Playing Adventure Time Fluxx is just like playing the original Fluxx but with a new theme. And with that theme comes a bit of silliness. (At least it did with our kids.)
The main objective of the game is to have the right Keeper cards in front of you that match the current Goal to win the game. Players do this by drawing and playing a variety of cards on their turn.
On their turn, players:
Draw the number of cards required
Play the number of cards required
Discard down to the Hand limit (if any)
Comply with the Keeper limit (if any)
To begin, each player gets 3 cards in their starting hand and the Basic Rules are in effect: Draw 1 card, Play 1 card.
So on the first player's turn they would Draw 1 card from the draw pile and then have to Play 1 card from their hand.
The cards they could play will consist of the following:
New Rule: the New Rule cards can either change a rule already in play or add to it. For example – a "Draw 4" New Rule will replace the Basic Rule of "Draw 1" and then every player will draw 4 cards at the start of their turn. If it's a "Hand Limit 1" then it won't cancel the "Draw 1" basic rule but will add to it and at the end of their turn, each player will have to discard down to just 1 card in their hand.
Goal: the Goal cards set the objective of the game. The game starts without a goal until someone plays a Goal card. With a Goal card in play, once someone meets the requirements indicated on the card, they win. But this too can change and players will keep playing Goal Cards that will replace the one already in play.
Keeper: these are cards that players set out in front of them, face up, to keep. Most of the Goal cards indicate combinations of Keeper cards needed to win the game. So players want to keep an assortment of Keepers in front of them. But of course, other players may also play cards that will steal your Keepers.
Creeper: the Creeper cards are like Anti-Keepers. You don't want these cards in front of you. Unfortunately you don't have a choice when you draw a Creeper. Even if you have the right Keeps in front of you to meet the Goal, you can't win if a Creeper is in front of you. As soon as you draw one of these cards, you have to play it in front of you.
Action: Action cards are just used once and discarded. For example, they're the cards that will let players steal Keeper cards. And some of these Action cards may create a lot of chaos. So just do what they say and continue on.
Surprise: these cards can be played at any time – even out of turn. Surprises have two functions, one for during your turn and one for out-of-turn. For example, the "I have a Sword" Surprise card can be played out of turn to stop another player from taking one of your Keepers. Or it can be played on your turn to discard a Keeper or Creeper in front of any other player.
Adventure Time Fluxx and Luck
While players need to make choices throughout the game, Adventure Time Fluxx is still very luck-heavy. This game is all about what cards you draw and what crazy rules and goals are put in play.
The good news though is that you have some input on when different rules and goals are put into play.
For example, you may have to play 3 cards from your hand and they could all be goal cards. So you'll get to choose which Goal card will be the one left remaining after you've played the first 2 Goal cards.
Since the game is such a light game, you simply make a choice and move on. Chances are the cards you play will be changed up anyway, so just play the cards and see what comes of it.
Many versions of Fluxx for the picking
Because Fluxx has been such a hit, Looney Labs has created a whole assortment of themed Fluxx games. Take your pick:
How does Adventure Time Fluxx score on our "Let's Play Again" meter?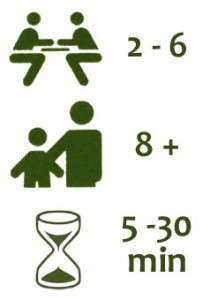 As I mentioned at the start, Adventure Time Fluxx scores higher on our boys' "Let's Play Again" game meter than Batman Fluxx because of their silly mood when they play it. So if they're going to play Fluxx, it's most likely that this is the version they're going to choose to play.
And if Caleb is going to pull out a Fluxx game to play with his friends, Adventure Time Fluxx will be the one he chooses.
Since the game length is also random, it's also easy to play many games back to back. So if the cards fall right and the game ends in 5 minutes, you bet they'll be calling out to play again.
So if you want some crazy, random card playing with a silly theme, then pick up a copy of Adventure Time Fluxx.
Thanks Looney Labs for more random fun.
Other random card games you might enjoy:
> Receive New Board Game Reviews and Articles in your Email