Gold Mine – Strike it rich with your family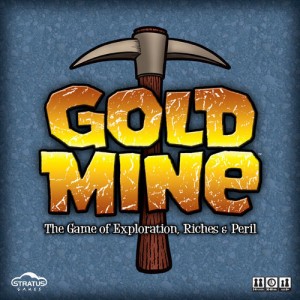 Gold Mine is a great family board game.
Everyone can join in excavating a mine for gold. You build the mine as you go and collect gold along the way. And who doesn't like to collect gold?
Take a look at what Brooke thinks of Gold Mine in her video review.
Can the whole family enjoy playing Gold Mine?

Yes, they can. One of the reasons why we like Gold Mine as a family board game is that it allows up to 6 players to play at a time. It's also great for families because it's simple to learn and play. So even the young kids in the family can join in the fun. But just because it's easy for younger kids to play doesn't mean the older kids and adults won't like it too.

How much luck is involved in Gold Mine?
Since the game centers around the drawing of tiles to build the board, there is plenty of luck in what you get next.
So a player that draws a lot of gold tiles will inevitably add them to tunnels near their playing piece and may have a better chance at collecting the gold. And there's also a lot of luck in all the dice rolling for movement and in the challenges.
However, we haven't found the game to be driven solely by luck. Even though a tile may be drawn with luck, the player still gets to determine where to place the tiles and in what direction to move. And the challenges add another bit of strategy because each player gets 3 gold challenges and 3 bat challenges during the game and they get to decide when that's most advantageous.
Cutest miners in the world.
Gold Mine has fantastic components! The little "miner dudes", as Brooke calls them, are very detailed and really help create the mood of being a miner searching for gold. Moving these playing pieces around the tunnels adds so much more fun than just having a little token or block to move around. The gold nuggets that you collect are nice chucks that looks and feel great too. And we love that the gold nuggets are about as big as the miners – so you're really taking in a haul of gold when you collect it.
How does Gold Mine score on the "Let's play again" meter?
Gold Mine scores high on our "Let's play again" board game meter. With cute playing pieces, the good balance of planning and luck, and the variability with the way the board/mine builds as you go, the kids are always up for another game.
Thanks Stratus Games for a fantastic family board game!
Win a copy of Gold Mine for your family!
Stratus Games is currently holding a contest to give away a copy of Gold Mine to celebrate the recent rescue of the Chilean miners. But hurry because the contest ends November 5, 2010. Click here to find out how to enter the contest.
Posted on October 31st, 2010