Game Toppers – Every table is a game table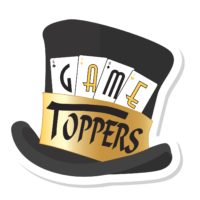 One of the tell-tale signs of a growing industry is the amount of ancillary products that follow. And since the board game industry has been growing by leaps and bounds over the last two decades, the amount of accessory products have blossomed as well.
You've probably seen a number of our reviews of game box organizers and inserts. They're a slick way to keep all your game components from rattling around in the game box.
Those are low ticket items compared to another big trend – custom gaming tables.
A number of game table companies have popped up over the last few years and I have to admit they're fantastic.
I got a close look at a number of game tables at last year's Gen Con and they're very impressive. The only problem is they'll also set you back thousands of dollars. And as much as I love games, there's still no way I'm going to fork over $3,000+ for a game table – even though they offer covers that turn them into dining table quality.
I'd love to upgrade my gaming experience to play on such nice tables, but it ain't gonna happen.
Well, if you're thinking the same as us, have we got some great news for you!
Game Toppers are on their way and they're gonna rock!
They let you turn any table into a quality game table in an instant! They have all the features of a high end game table at a fraction of the cost.
We caught up with Burky, the designer of Game Toppers, and asked him some questions about his innovative solution to this dilemma.
Q. We first became familiar with your love of board games through Board Game Theater where you deliver the most creative game videos around. What drew you to create Board Game Theater?
A. I've been a gamer since high school, playing Axis and Allies, Shogun, Fortress American, Risk and the like.
My family (I have 4 children) became very active with the Days of Wonder games. We would get 2 games every Christmas as family gifts and play the mess out of them.
I also went to my first Gen Con with my son for his graduation gift. This was the point where the world of hobby games took a whole new meaning for us.
My family is a hoot, and whenever we play games we immediately move into role playing the theme. Since my oldest 2 daughters own a historical costume company, Matti's Millinery and Costumers, we thought why not dress up in costumes and play games thematically while showing the game play off?
Thus Board Game Theater was born.
Our first episode was Sheriff of Nottingham and we had a blast. So we've just kept on making them.
Q. You've also been involved in many other endeavors related to board games. Can you tell us more about them?
A. After starting Board Game Theater, we became a periodic contributor to The Dice Tower Network.
This led me to start a board game podcast with Barrly Doublet (also a Dice Tower Contributor) from France. We do a bi-monthly show the Burky and Badger Board Game Babble Show, where feature industry guests share their insights. We also have a super fun game show, feature some games, immerse ourselves in the "Babble Topic", and just create overall silliness.
Q. Where did the idea for Game Toppers come from?
A. About 5 years ago, I designed a table with a rustic wood theme that my father built for me. We loved playing on this table.
This led me to build a prototype topper for when I went to my daughter's home for game nights so we could play like we did at home.
Five generations of prototypes followed until we had what we thought was a good idea. I started taking it to regional gaming cons and peoples' homes and getting reactions.
People loved it.
Q. Why should people consider getting a Game Topper?
A. The whole point of gaming is to create experiences. Our Game Toppers do just that.
The features of our rail system that include cup and goblet holders and gaming accessories with high quality craftsmanship gives you that luxurious feel and function of very expensive tables.
Our thematic game mats also immerse you in a theme.
Cost is a big factor for a lot of us. I wanted to make something great for people, while making it relatively affordable compared to the tables that cost thousands of dollars.
Many people also don't have space for a dedicated table.
Game Toppers solve that problem!
In literally 1 minute you can convert your own kitchen or dining table into a high quality gaming table. Even standard Lifetime folding tables can be used for that extra game space needed.
Q. How do you ensure top quality production in every topper?
A. I've been working with engineers to create our patent pending Military Grade Aluminum Rail System that performs better than wood.
This provides us with the quality, strength, and the precise tolerances needed for every-time consistency. They're also powder coated for an incredible strong finish. This also allows us to manufacture very efficiently.
My reputation is on the line, and I'm a bit picky when it comes to quality, so rest assured I'll do what it takes to make sure these live up to my standards.
Q. How many different sizes and options will be available?
A. Currently, we have 4 sizes.
The standard tables have a play area of 38" x 60" or 36" x 72".
Each full table can also become a mini table of 30" x 38" and 36" x 36" with our accessory rail.
We're exploring a large 4 x 4 and 4 x 6 foot table as well.
Q. Why do you love board games?
A. It's all about interaction for me.
I love game mechanics and I love theme.
But the overall enjoyment of connecting with people over a tactile board game is like no other hobby experience for me.
Q. And finally, since we're all about families, why do you think it's great for families to play games together?
A. I can't count the times our family has been able to bond and create moments that we remember and still talk about today.
One that lives on in our family is when my son, Josiah, couldn't get the tile quick enough playing Steam Park. After 4 times he yelled, "NOOOOOOO" in his best Luke Skywalker voice. We all busted up laughing. We still remember it well and smile every time we think about it.
We've been able to teach kindness, sportsmanship, preferring one another, and overall life lessons through gaming.
At each family get-together, we all gravitate to games to make these moments.
To get a real sense of what Game Toppers will do for your game experiences, check out Burky's Game Toppers video below. And be sure to head over to the Game Toppers website and sign up for the newsletter so you'll know as soon as the Kickstarter campaign goes live.
NOTE: Our full review of our own Game Topper is now posted. You can see it here.
Posted on August 29th, 2017