First Orchard brings back the fun in picking fruit
Some of my fondest memories as a child involve walking with my Mammaw (that's Texan for Grandma) around her house picking blackberries.
We'd each fill our baskets with blackberries to take home and make blackberry pie. Of course, we'd snack on them along the way too.
Picking fruit from its natural source can be hard work; but when done with family and friends it can be a very enjoyable experience.
In HABA's First Orchard, part of the My Very First Games series, you get to tap into the fun aspect of picking fruit as a family.
It's a promising theme, but does this children's game deliver the fun?
First Orchard is a cooperative board game where all players work together to pick all the fruit off the trees in the orchard. You'll be collecting red and green apples, blue plums, and yellow pears.
There's a catch though.
A hungry crow is sitting on the outskirts of your orchard looking forward to munching on all your tasty fruit. So you have to work quickly to pick all the fruit before the crow enters your orchard and begins eating your fruit.
Set up
The set up is quite easy in First Orchard. You take the four tree tiles and place them in any configuration you want. Use your imagination in how you want your orchard to look.
Next place the fruit on their corresponding tree. Each tree tile is clearly marked as yellow, red, green or blue so you know where to place the fruit. There are 4 pieces of fruit in each color so the trees are nice and full.
Then create a path leading into the orchard using the 5 pathway tiles. Place the crow at the start of this path – from where he'll head toward your orchard.
Set aside your basket to put your fruit in and the game is ready to go.
Player turns
It is time to get to work and start picking that fruit!
Whoever has eaten an apple most recently starts things off.
On a player's turn they'll roll the die. The six-sided die is marked with a yellow, blue, red, and green dot as well as with a crow and a basket.
If you roll a colored dot, you'll pick the corresponding fruit of that color and add it to the basket. If there are no fruit remaining of that color, you can either roll again or pass play to the next player.
If the die result is a crow, the crow will take one step towards the orchard along the path. Roll this 5 times and the crow will eat all your fruit!
If the die lands on the basket you're able to pick a fruit of you choice from any tree. This is really helpful late in the game as the trees have less fruit remaining.
If you pick all the fruit before the crow gets into the orchard everyone wins!
Go celebrate and enjoy your spoils together.
If your children are anything like my daughter then the crow will also be invited to partake of the glorious harvest.
Components/Durability
It's a HABA game. Need I say more?
The tiles in First Orchard are a nice thick cardboard which hold up very well and the fruit and crow are solid wood and quite large. This makes it easy for young hands to grasp the pieces and maneuver them around without difficulty.
I don't worry letting my kids play unattended either as I don't feel they could damage any components. Nor are there any pieces I feel are a choking hazard.
Can the whole family enjoy First Orchard?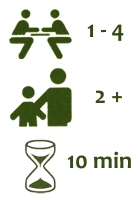 First Orchard children's game is designed for ages 2+. When we first got it a couple years ago, my Brooklyn was right at that age and it was very age appropriate for her.
An important feature in board games is the educational aspect they provide for young kids.
First Orchard helps young kids with color recognition as well as understanding the basic concepts of rules in games.
My daughter quickly grasped the concept of which action matched each die roll. She also learned the concept of turn order (something that can be hard for young kids).
Board games are a great way to introduce these concepts to young children. They learn to be more adaptable to situations where they'll need to follow instructions and take turns without getting upset.
As a family we thoroughly enjoy playing First Orchard together.
It also has a special place in my heart, as this was my daughter's first game. And while she doesn't ask for this one as much anymore, since she's moving on to older kid games, I look forward to playing it with our youngest daughter once she's ready.
I highly recommend First Orchard as a child's first introduction to board games.
Posted on March 14th, 2017