Put your Magic Minds to the test!
"I bet I can guess what you're thinking about before you can guess what I'm thinking about."
While we don't actually say that at the start of a game of Telepathy Magic Minds, we probably could. Because that's really what the challenge in this board game is all about — being the first to guess the opponent's secret square.
If you saw our Brain Freeze game review earlier this week, you'll already be familiar with what you're in for with Magic Minds.
Both games are great 2-player deduction games for the whole family.
The main difference between the games is the level of difficulty.
Check out Brooke's short video review to see how Magic Minds steps up the mental challenge.
Can the whole family enjoy Magic Minds?
While the process of Magic Minds is just like Brain Freeze, the amount of possibilities in Magic Minds makes the game a tougher challenge. So younger kids may be more apt to play Brain Freeze.
But if they want to give Magic Minds a shot, by all means, let them go for it.
As Caleb mentioned in his video review of Brain Freeze, each board has a 10 x 10 grid of items. Thus, there are 100 squares on the board to choose from.
Magic Mind boards each have an 18 x 18 grid of items for a total square count of 324!
Similarly, each combo of item and color are on the board 4 times. Which means there are 9 items and 9 colors to work with in guessing and solving. It's this increased factor that creates a bit more of a challenge in Magic Minds.
Yet, even as adults we're not opposed to playing either version.
I personally prefer to play Magic Minds if given the choice. But will gladly play Brain Freeze if that's what's on the table.
Some nitpicks with Magic Minds
As much as we love this simple, 2-player deduction game, there are a couple of minor things we wish were different.
Because of the mystical theme of the game, all the items are magical like Magic Wand, Spell Book, and Crystal Ball. However, while playing with a variety of folks we've run into issues with there being two Hats included.
The visuals between the Magic Hat and the Wizard's Hat are completely different. The Magic Hat shows rabbit ears appearing above the brim and the Wizard's Hat is pointy with stars. Yet, inevitably when new players dive in, we've seen it cause confusion when they mistakenly announce the opposite. Because when just looking down at their board, the wizard's hat looks very magical too.
Our second issue to note is color confusion.
While it hasn't been an issue with our immediate family, for those that have difficultly with distinguishing colors, the game presents an added challenge. If you think this might be a concern for your family, take a look at the photos we've included with our review to see how easy/hard it is for you to distinguish between colors (like the red and orange).
That being said, we've found these to be only minor issues with the game and haven't diminished our enjoyment of the game at all. It's great!
How does Magic Minds score on our "Let's Play Again" game meter?
Just like Brain Freeze, Magic Minds scores at the top of our "let's play again" game meter!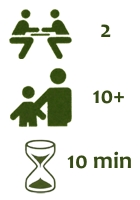 It's a head-to-head challenge we love to play over and over. The dry erase boards make it so simple to throw down challenge after challenge.
And even after putting the game back in the box, Magic Minds doesn't seem to find its way back to our game closet. Instead it stays nearby, ready for the next challenge to be made.
Because with a play time of only a few minutes, it's something simple to do while waiting for dinner to finish cooking (or while waiting for kids to get ready for bed).
Thanks Telepathy Games for another fun family board game!
Posted on May 14th, 2016