Gravity Maze – Fun 3D Puzzle Game
When I first heard about Gravity Maze earlier this year, I thought it would be a game that our youngest son, Caleb, would really enjoy.
He loves games that makes him think. He loves a challenge. He loves marble runs. And he also really loves doing some things on his own – like solving puzzles.
So I really shouldn't be surprised that he gives Gravity Maze one of his highest ratings.
However, his first impressions were anything but positive…
Considering how unimpressed he was when he first played, his high rating is quite a solid endorsement of the this new 3D puzzle game.
On his first play, he took out the challenge cards, set up the first one, and solved it in an instant. He tried a few more of the Beginner cards, said "this isn't very fun", and pushed the game aside.
I could see pretty quickly that those Beginner levels were just to easy for him. So I pulled out an Advanced level card and challenged him to try it. Pretty soon he was scratching his head and he became determined to figure it out.
Through trial and error, he finally found the solution.
When I saw the triumphant grin on his face, I could tell he was hooked.
Can the whole family enjoy Gravity Maze?

As you can see in Caleb's video review of
Gravity Maze
, he can hardly stop himself from creating endless configurations of 3D mazes.
The game box may say "Single Player", but that's not how Caleb likes it.
While he's spent a bunch of time solving the challenges in the game, he's not content with that alone. Instead, his preferred method of play is to create his own mazes and challenge others in the family to solve them.
In fact, we've spent more time challenging each other than solving the challenge cards.
As he shows in his video review, one person will create a maze, take out some of the pieces, then pass the grid and the removed pieces to another player for them to solve. Once solved, that person will then create a maze to challenge the first player.
It's a unique head-to-head challenge that keeps us thinking.
An Award Winning Game
We're not the only ones who think Gravity Maze is a fun puzzle game.
A couple weeks ago at ChiTAG, Gravity Maze designer, Oliver Morris won the Toy & Game Inventor of the Year in the "Excellence in Game Design" category for Gravity Maze.
In addition, Gravity Maze has been nominated for Toy of the Year in the Specialty category by the Toy Industry Association. You can even take part in the voting for this award at ToyAwards.org.
How does Gravity Maze score on our "Let's Play Again" game meter?
Gravity Maze gets a high score on our "let's play again" game meter for a few reasons.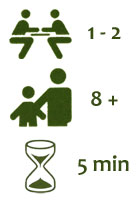 The first reason is because it's such a short game. It's very easy to play "just one more" because it only takes a minute or two to create or solve a puzzle. Sure some challenges will take longer, but that just whets the appetite to play even more.
The second is because it's such a hands-on game. The pieces are fantastic and they're simply fun to snap around – to the grid and to each other. There's an endless way to configure the pieces, so it's always fun to try something new.
And the last is because anyone can play at any time.
While we enjoy challenging each other, another player isn't needed to enjoy the challenge. It's a great game for kids to spend some time on their own figuring out the 3D maze puzzles.
Thanks ThinkFun for such a fun family puzzle game!
Other board games your kids might also enjoy:
> Receive New Board Game Reviews and Articles in your Email
Posted on November 30th, 2014