Kids will love Coconuts
What if they had a monkey to fling rubber coconuts around?
Would they enjoy that?
Because that's exactly what the Coconuts board game is – a dexterity game that kids will love.
After all, they get to use monkeys to fling rubber coconuts.
When we first got Coconuts from Mayday Games, we were surprised to see the writing on the box that we couldn't understand. The big bold print was in Korean. There was one word we could read – "coconuts". And when we opened the box and started flinging coconuts, that's all the understanding we needed.
It's such a simple game to understand that language really doesn't matter.
Check out Caleb's video review and you'll see what we mean.
Can the whole family enjoy Coconuts?

Coconuts is a game that everyone in the family can enjoy – even the toddlers. (Though we better be responsible reviewers and indicate that the little coconuts are choking hazards and the recommended age on the box is 6+.)
But really anyone that can place a small, rubber coconut in a monkey's outstretched hands and fling it can enjoy Coconuts. So we can totally see kids younger than 6 having a blast too.
It's one of those games that are just a light fun activity. Families may even want to keep it out on the table for quick plays here and there.
Cool coconuts
Speaking of choking hazards…
We spoke with the owner of Mayday games about how cool the actual coconut pieces are and he told us a funny story.
While at the New York Toy Fair with Coconuts this year they had the coconuts pieces in a bowl by the game so they could be contained in a small space. One uninformed kids walked by and grabbed a coconut piece and popped it in his mouth as he walked by – obviously thinking it was a piece of candy.
Now, he didn't choke on it. But he also didn't return it. He must have been too embarrassed after biting down on it to acknowledge his mistake.
But the coconut pieces really are very cool. Rather than being plastic pieces, they're made of rubber and have a grippy texture to them. They're pretty solid and can bounce around – which make them great for trying to land in a cup.
Very popular with the kids
While teenagers may not be drawn to the game, it's a hit with younger kids.
While at SaltCON a few weeks ago, I noticed the Mayday booth had a steady stream of young kids wanting to play (and buy) Coconuts. Those cute monkeys are tough to pass up when you see them out on a table.
And in our family, Caleb has quite the knack for getting the coconuts to land in the cups.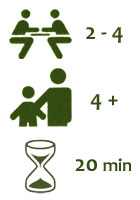 Another thing the kids like is that they're not limited to shooting for the unclaimed cups in the center of the table. Players can also steal already collected cups from other players. By landing a coconut in a cup on another player's board, they can then claim the cup for themself. It's a great move toward victory to gain a point while at the same time knocking another player down a point.
How does Coconuts score on the "Let's Play Again" game meter?
Coconuts scores high on our "let's play again" game meter. In fact, I don't think we've ever played just one game. Once the game is out, it gets played numerous times in a row.
Part of it's a factor of how long it takes to play a game – just a few minutes. And the other factor is that it's simply fun to fling coconuts.
Thanks Mayday Games for a fun family dexterity game.
Other dexterity board games your family might enjoy:
> Receive New Board Game Reviews and Articles in your Email
Do your kids enjoy throwing / flicking / flinging things around?
Posted on May 2nd, 2014