Wanna buy some Snake Oil?
Snake Oil is a fun party game of pitching crazy products to all sorts of customers. Players take turns being the customer and listening to sales pitches from the other players. Then they must decide which product they're going to buy.
The catch is that players can't just sell anything they want. They're limited to what they can come up with from the cards in their hands – which makes for some pretty crazy product pitches.
It's a very straight forward to understand, so a video review may not seem necessary. But oh, have we got a deal for you!
In our video review of Snake Oil, Trevor and Jaden are competing for your business. They'll show you exactly what this Out of the Box party game is like and how crazy the products can be.
And as their customer, you're going to decide who wins.
How's that for a deal?
Watch the video and leave a comment of which products you'll buy from their 5 sales pitches. You can leave the comments either on YouTube or at the bottom of this post.
Can the whole family enjoy Snake Oil?

Snake Oil is a party game with recommended ages 10+. But as you know, we also like to test those assumptions. And although Caleb had a hard time in a couple instances coming up with a product, once he chose a pair he'd put forth a good pitch.
He also had a great time listening to all the other pitches and gives the game high marks. But in general, we agree with this age recommendation. Younger players will have a tough time playing and making sales pitches. (But they'll love watching everyone else play.)
For older kids and adults however, Snake Oil is a great party game. As you can see from Trevor and Jaden's review, Snake Oil is hitting the top of their game ratings. They love coming up with crazy products and pitches and seeing how convincing they can be.
The first time I played Snake Oil, I figured it would be a great game for my marketing team at work. Since marketers are always working on thinking of good ways to pitch a product, Snake Oil felt like a perfect game the group. And I was right.
Everyone had a great time playing Snake Oil at a team holiday lunch. And that afternoon a couple of them picked up a copy of the game.
We even talked about playing Snake Oil before some of our brainstorming sessions to help get the creative juices flowing. A valid reason to play games at work – now we're talkin'!
Similar to other party games
The general game mechanic of one person being the judge and other players submitting an answer/card to be chosen isn't really new. The most familiar game of this sort is Apple to Apples (also first published by Out of the Box). Apples to Apples has become so popular that it's often used as a baseline to describe these type of games.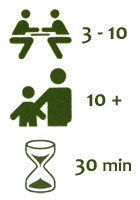 And while we love Apples to Apples, we think Snake Oil has a lot more interaction as players pitch their products to each other. The only catch is that some people don't like that pressure. They don't like being put on the spot to come up with a pitch. They'd rather just submit an answer and leave it up for the judge to pick.
How does Snake Oil score on the "Let's Play Again" game meter?
When it's party game time, Snake Oil scores high on the "let's play again" game meter. It's a great way to let the creativity flow and give fodder for many conversations to come. I think we'll keep talking about how Jaden sold Ocean Water to a Beach Bum for years to come.
Thanks Out of the Box for another great family party game!
And don't forget to cast your vote one who wins by commenting below on which of the products Trevor and Jaden were pitching you'd buy!
Other great family party games:
Posted on December 31st, 2012