Timeline – Card game review
How good are you with history?
Do you know which came first – gun powder or the clock?
I can't say that I ever loved studying history in school. But I've really enjoyed playing Timeline – a fun family card game all about setting historical events in their proper place.
How to play Timeline
Timeline is a simple card game. Correctly determine where each of your cards go in the Timeline and you'll win. The tricky part is making that determination.
Every player is dealt a starting hand of cards. On each double-sided card is a historical event. It could be an invention, a discovery, a famous work, or a creation and such. On one side is just the name and an image of the item. On the other side is the same information but with the year that the item was made, discovered, or took place. The cards are dealt so players don't see the side of the cards with the year printed on it.
One card is then turned over in the center of the table so the year is shown. In turn, players select a card from their hand and chose where they think it should go in the timeline. The player places the card in the timeline where they think it goes, then they flip it over to show the year. If they were correct, the card stays in place and the next player takes a turn. If the card is in the wrong place, it's discarded and the player takes another card from the draw stack to add to their hand.
The first player to get rid of all their cards wins.
At the start of the game the choices are rather simple. Does your card go before or after the initial card laid out? But as more cards are played, the options and choices get more complex.
For such a simple game, we love how much discussion it generates while playing.
Can the whole family enjoy Timeline?

Most of the family will be able to enjoy Timeline. Obviously the older players are going to have an upper hand simply because they will have a better context on history and when certain events occurred. However, that still isn't any guarantee that parents will beat teenagers. With kids rolling through history classes, their memories may be a lot more fresh than the elders.
But even though Timeline is a card game more suited to the older kids and adults, that doesn't mean younger kids can't enjoy it too. Even though Brooke may not have a good grasp on what centuries certain events occurred, she still enjoys guessing and seeing how it turns out.
I don't know how much memorizing goes on with the kids, because I haven't been able to detect much of that yet even with the various times we've played Timeline. But parents could look at Timeline as learning game as well – to help give their children a frame of reference for a wide range of historical occurrences.
It's also nice and compact, which makes it easy to take along on the road or when you're getting together with friends or family – like we did on our recent trip.
How does Timeline score on the "Let's Play Again" game meter?
Timeline scores well on the "Let's play again" game meter because of how simple and easy it is to play. You don't have to worry about set up time or remembering complex rules. Simply pull deal out the cards and start guessing where they go. And when one game ends, there are still plenty of cards left that haven't been touched, so why not just keep going?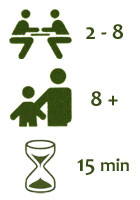 Asmodee has also published a couple of expansions of Timeline that we think would be great to pick up – Timeline: Discoveries and Timeline: Historical Events. It could be pretty cool mixing them all together.
Other great family card games:
Posted on October 22nd, 2012