Shrimp Cocktail – Quick spotting card game
Shrimp Cocktail is another quick playing card game from Blue Orange Games – the same company that publishes Spot It. And like Spot It, the winner will be the one with the quickest ability to spot matches.
But the difference in Shrimp Cocktail is that you're not looking for matching symbols on 2 cards. Instead you're looking for similar characteristics shared between shrimp on 3 cards. Watch this short video review of Shrimp Cocktail by Caleb to see how to play and you'll know what we mean.
Can the whole family enjoy Shrimp Cocktail?

Shrimp Cocktail is a card game for kids. Don't expect it to appeal to teenagers or adults. Blue Orange Games knows who this game is for and they've themed it appropriately for the younger crowd.
And since it's a game of speeding spotting, it's best to be played by those of similar abilities. In most cases this means that parents will trump their kids. Of course, we say "most" because we know there are plenty of kids out there that are pretty observant and can beat the adults outright as well.
Likewise, don't expect the simple game play of Shrimp Cocktail to appeal to older kids. When a game comes with a squish toy as the mechanism to alert other players that you've spotted a match, you won't see too many teenagers clamoring to play. But that's not to worry because Shrimp Cocktail is clearly a kids game. And kids will love trying to be the first to find the matching characteristics among the shrimp cards on the table.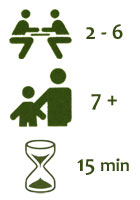 As Caleb shows in the video, each shrimp card has 4 characteristics and players need to spot at least 1 similar characteristic on all of the 3 face-up cards in play. So it's a great game for developing visual recognition skills. It helps kids keep their minds sharp as they focus on the shrimp characters on the cards. And they'll find that if they focus too much on just 1 characteristic, they'll miss matches. Chances are they won't even realize they're developing their minds while playing the game.
How does Shrimp Cocktail score on the "Let's Play Again" game meter?
Shrimp Cocktail plays so quickly that it's going to be played multiple times. No matter how they finish the game, players will anticipate doing better the next time and call for a rematch.
Thanks Blue Orange Games for a fin, light game for the kids that helps them develop their visual recognition skills.
Other fun, quick family board games you might enjoy:
Shrimp Cocktail is a card game that's fun for kids and helps develop their visual recognition skills as they race to be the first to spot matches among the shrimp on the cards.
Posted on October 8th, 2012