Monopoly Millionaire board game winner!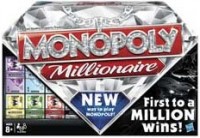 Congratulations to Amy W of Ohio, USA for winning our recent Monopoly Millionaire board game giveaway contest sponsored by Hasbro!
Monopoly Millionaire is the latest version of Monopoly – the most popular family board game this century. It's hard to find anyone in the world that isn't familiar with Monopoly.
And we enjoy it more than the original because rather than trying to bankrupt all your opponents, it's now a quick race to $1 Million. And with upgradable playing pieces, you'll be moving up the ladder much quicker. You can see more of our Monopoly Millionaire board game review here.
So cheers to Amy W for winning the game giveaway and we hope it spills over to you winning the race to $1 Million.
It was also great to see so many entries in the contest!
We look forward to conducting more family board game giveaways as we head into the next few months of holidays. So stay tuned!
Posted on September 24th, 2012