Time for a team rescue – Flash Point: Fire Rescue
We've said it many times before – We love cooperative board games. We love them because they encourage teamwork to win the game. And when we can't win, we all feel the pain of defeat together.
They're also a great way to get younger kids to enjoy board games because you're not competing against them. You don't have to 'take it easy' on them because you're after the same goal.
So when we first heard about Flash Point: Fire Rescue our interest was piqued. The big question would be "is it a good board game?"
And with the cool picture of a firefighter rushing ahead with an ax, Caleb was anxious to open and play the game the moment he saw it. So here's Caleb to show you Flash Point: Fire Rescue and tell you what he thinks about the game.
Can the whole family enjoy Flash Point: Fire Rescue?

There's no sense beating around the bush – Flash Point: Fire Rescue is a great cooperative board game for families!
Yes, cooperative board games can work well for families. But just because it's cooperative, doesn't guarantee it will be fun or engaging. And that's where we're happy to say that Flash Point is fun and engaging.
One of the things that we really like about Flash Point is the randomness of where the fire heats up. During every player's turn they roll 2 dice to see where the next smoke token is placed using a cool grid system. So you never know what you're going to get. Everything may be going along just great and then all of a sudden, explosions start happening and knocking out walls.
The other random element is where the people and pets (points of interest) pop up during the game for you to go rescue. In one game we played, Trevor rescued 4 of the 7 people from the same room. He'd step in a couple spaces, rescue a person, and get out of the building. Then the lucky dice roll happened to place the next person to rescue in that same room – so back in he'd go.
Sure a firefighting game sounds like a serious topic, but we laughed a ton as we hailed Trevor for being the master fireman saving everyone as they'd keep appearing out from under the bed (or so we joked since it happened to be a bedroom).
And even though the recommended ages on the game box say 10+, since it's a cooperative game don't hold back introducing it to younger players. Sure younger players may not be able to pick it up and play it on their own from the start. But once they've been introduced to how to play, they may even be fine to tackle it without your help.
How many people can play Flash Point: Fire Rescue?
Another reason we think Flash Point is great for families is because up to 6 people can play it together. And since we're a family of 6, that sits very well with us. But Flash Point is also great to play with only 2 – which means that we don't have to pull out a competitive head-to-head 2-player game every time that we only have 2 people that want to play a game.
You may think it would be easier to win with more players, since more rescuing could happen. But that's not the case because the fire also spreads a lot quicker when everyone's rolling for fire each turn. Overall, we've found it fun no matter the number of players.
How does Flash Point compare to other cooperative board games?
People often ask us to compare games for a variety of reasons. It may be because they like a certain style of game play and would like similar games. Or on the flip-side don't want games that are too similar. Whatever the reason, we know we'll be asked how Flash Point compares to other cooperative board games.
While this will likely be a future topic where we can go into more depth between cooperative games, we'll quickly say that Flash Point has a unique feel to us and stands very well on its own. In fact, each of the cooperative games we've reviewed have their own unique feel. In each game, there's a crisis of some sort that must be overcome. And the way that those crisis's escalate is different in each.
In Flash Point, we enjoy the theme of being a team of rescuers. And the compactness of the game board and the way the threat spreads all work together so well. In the family play rules the game is very straightforward and streamlined making it very easy to understand and remember. There isn't too much going on and that's a great thing.
But there's also another level at which you can play Flash Point. The game also includes other elements and rules that will add more complexity and challenge to the game if you're looking for something deeper.
How does Flash Point score on the "Let's Play Again" game meter?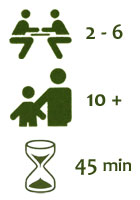 As you could guess from our review, Flash Point scores high on our "let's play again" game meter. Flash Point plays in a relatively short amount of time for the type of game that it is and as such is easy to set up and play again. And when you lose, that's exactly what you'll want to do – play it again. It's also going to be a game that stays within reach on the game shelf for frequent play.
Thanks to Indie Board & Cards for a great family cooperative board game!
Other great cooperative board games you might like:
Interested in what others think of Flash Point: Fire Rescue?
Check out these other opinions:
* Board Game Reviews by Josh review of Flash Point: Fire Rescue
Posted on March 30th, 2012