Martian Dice – Push your luck with dice
Have you ever imagined you're an alien and you've come to Earth to abduct humans, chickens, and cows?
No?
Well neither had we.
Until we got a copy of Martian Dice by Tasty Minstrel Games that is.
Then it was "game on" and we started capturing life forms left and right and having a lot of fun egging each other on to keep rolling the dice.
See what Martian Dice is all about in Brooke's short video review.

Can the whole family enjoy Martian Dice?

Martian Dice is a game the whole family can enjoy together. Even the youngsters can join in because there isn't any text to read and it's just a lot of dice rolling. And what kid doesn't love to roll dice? Especially when the dice is covered with super cool artwork rather than just pips.
It's a fun dice game that's all about pushing your luck. So if you don't already know who the risky ones are in your family, then you'll find out when you play Martian Dice. Sure you can go the safe route and as soon as you have a set of life forms and more death rays than tanks, you take your points and move on – earning a little bit each turn. Or you can risk it all the way and hope for the bonus or nothin'.
Another great thing is that Martian Dice is so portable. Last week I took Martian Dice with me when I met a past co-worker for lunch. It was a perfect, light game to engage in while we waited for our meal. And it's even smaller to transport if you just toss the dice in your pocket. Fun stuff for almost anywhere.
How many players can play Martian Dice?
As many as want to. There's no player limit with Martian Dice. If just you and a buddy (or sibling, or child, or spouse, etc.) want to sit down and play, go for it. If you've got the whole family together or a big group of people hanging around, pull it out and challenge everyone.
There isn't really any direct player interaction during the game. You're all trying to be the first person (alien) to hit 25 points. But what one player does on their turn won't affect your turn. Unless of course, they're way ahead of you in points and it causes you to want to push your luck even more for a big score…
But while one player is taking their turn, you'll be able to keep on conversations with whoever you'd like. In that sense, Martian Dice allows all the socializing to continue. It's not a brain burner, so you can just enjoy a nice, light time with family or friends.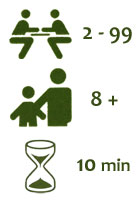 How does Martian Dice score on our "Let's Play Again" meter?
Martian Dice scores high on our Let's Play Again game meter. It's so easy to pull out and play in quick bursts. And once Martian Dice is out on the table, it's hard to stay away from testing your dice rolling luck. So it's definitely a family game that gets played over and over.
Thanks Tasty Minstrel Games for a new fun family dice game!
Other family board, card, and dice games you might enjoy:
Interested in what others think of Martian Dice?
Check out these other opinions:
* Board Game Reviews by Josh Martian Dice review
Posted on December 14th, 2011