Fastrack delivers fast family fun
Do your kids enjoy dexterity games?
Dexterity games are defined as the class of games that includes any game in which the skill element involved relates to manual dexterity or hand-eye coordination (but excludes the class of video games).
Chances are good that your kids enjoy dexterity games because they enjoy challenging their own skills. There's immediate feedback in what they do. And it's pretty rewarding when they accomplish something that requires manual dexterity. We all love that feeling.
And when they can beat mom, dad, or older siblings they feel pretty pumped. Maybe that's why Jaden loves Fastrack so much. Check out his short video review and see him whoop dad at Fastrack.
Can the whole family enjoy Fastrack?

Absolutely. Fastrack is a very simple game that people of all ages can play and enjoy. And very young kids will love challenging their own skill in being able to shoot discs through the small hole in the wall. And like we mentioned earlier and you can see in the video, it's great when you've got a game where they can beat their parents.
And we can also tell you that the board, discs, and rubber band for slinging are very well made and will last a long time. Chances are that when our kids are grown and have kids of their own, they'll be challenging us as well. So get ready grandparents because you're not immune to having your grandkids taking you out.
How does Fastrack score on the "Let's Play Again" meter?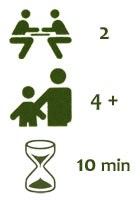 Fastrack scores on the kids' "Let's play again" game meter. Not only do they love challenging each other, but it's also a game that they love to pull out to challenge their friends. And once it's on the table, the tinking sound of those discs hitting the walls goes on and on for a long time. Challenges and rematches abound.
Sometimes simple, quick games are all you need to have a lot of fun.
Thanks Blue Orange Games for another fun family game.
Other fun family and kid board games:
Posted on December 17th, 2011