African safari fun with Botswana
Have you been on an African safari before?
We never have – but think it would be awesome!
I've always loved animals and have had an African safari on my wish list since I was young. And maybe that's where Brooke gets her love of animals too.
Well, with Botswana, Brooke and I can play out our dream of going on an African safari. And she's happy to show you all about it in her short video review of this fun family game.
Can the whole family enjoy Botswana?

Absolutely. Botswana is a game that's great for families of all ages. It may be a little tricky for younger kids, but we think they'll still enjoy it. As you can see in Brooke's video review, it's a simple game to play – play a card, pick an animal. But it also holds some strategy that older kids and adults can enjoy in how you score your animals at the end of each round.
Planning which cards and when to play them is key to scoring well in the game. Sometimes you'll have great plans to play high cards of certain animal types, but then the round will end before you get a chance to play them. And then you may be stuck with animals that don't score you any points at all. Or maybe you'll be the person that drops the value of the animals that your opponent has been collecting…(fun to do).
How does Botswana score on the "Let's Play Again" meter?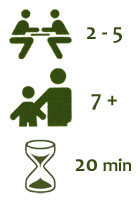 Botswana scores high on our "Let's play again" meter because of its simple play and elements of strategy. It's easy to end one game and go straight into another one. It also comes in a nice compact box that's easy to pull out and set up – just shuffle and deal the cards and you're good to go.
Thanks Gryphon Games for a great family board game with cool animals!
It's a great addition to the Gryphon Games bookshelf series.
And hopefully one of these years, I'll finally get on a real African safari.
Other games in the Gryphon Games bookshelf series that we've reviewed:
Posted on December 8th, 2011