Sounds Like a Plan – for everyone
What's the best advice your grandma would give you if you wanted to fry an egg on the sidewalk?
Or what advice would a kid give you for building a time machine?
Well, in Sounds Like a Plan, you're going to find out. Sounds Like a Plan is a terrific board game for the whole family to enjoy. And it's great for parties too. It can play up to 8 players and does so in a great fashion.
Sounds Like a Plan quickly became one of Brooke's favorite games and she'll tell you why in her board game video review.
Can the whole family enjoy Sounds Like a Plan?

If they're old enough to read, then they're going to like it. We feel it's a great board game for the whole family for a number of reasons:
It's simple to play
It's creative
The responses are funny and provide good laughs
Everyone can score points along the way
The components are fun and work well for the theme
We really like that we can all play at the same time and that everyone can score each time (except for the person who chooses the task that turn).
So even if you don't have good advice cards in your hand, you can still score a point or two.
In other games like this – where you select the best match – only one person gets a point for playing the best card. But in Sounds Like a Plan, you order the responses so everyone can score along the way. And this keeps the game fun for everyone as you go and we haven't found anyone being left in the dust.
How does Sounds Like a Plan score on the "Let's play again" meter?
Sounds Like a Plan scores high on our "let's play again" meter for the very reasons mentioned above. But it's really the funny combinations of tasks and advice that have us wanting to play over and over.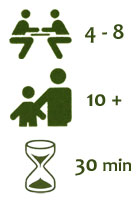 The score track is a good length, but the games we play always come down to a close battle at the end to cross the finish line first. So calls for a rematch occur frequently.
There also isn't much to the set up of the game, so it's easy to start right into another round.
When you're looking for a great, light-hearted, fun group board game, then check out Sounds Like a Plan.
Thanks Gamewright for another fantastic family board game!
Other family board games you might like:
Posted on December 12th, 2010