Settlers of Catan – Settle in for family fun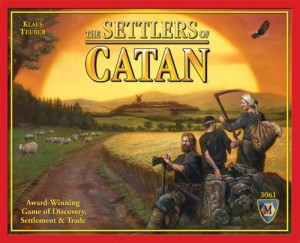 It's time to introduce one of the board games that is credited as having a big hand in the resurgence of board games over the last 20 years. Settlers of Catan is a game that many people say got them into or back into playing board games.
Although it wasn't the board game that got our family into playing a lot of games together it was among the group of such board and card games. The reason many say it lit that fire is because it was the first game that really stood out to them as being different from what they grew up playing (Monopoly, Life, Sorry).
So what makes it different and what's so unique about it? Check out Jaden and dad's video review of Settlers of Catan to find out.
Can the whole family enjoy Settlers of Catan?
Yes, they can. Settlers of Catan is another board game that's great for families to play together. It's easy to understand and can be played by both old and young alike. It has a good mix of both strategy and luck and enough interesting choices to let you try different strategies each time.
One of the things that we love about it is that everyone can participate even when it's not their turn. Rather than just sitting and waiting for someone to take their turn, you can be benefited and gather resources even if it's not your turn. We also like that people don't get eliminated as the game goes along. So everyone stays engaged throughout the game and is in it until the end.
Best selling board game
Settlers of Catan appeared on the scene in 1995 and has continue to gain momentum ever since. You may recall from an earlier post we made this year
(Board Games Up, Video Games Down)
that Settlers of Catan is the best selling board game for 2010. Various expansion games have also grown out of the amazing success of Settlers of Catan. And since we're a family of 6, we were happy to see the expansion that let's up to 6 players to play the game together. The way sales have continued to grow every year as more people hear of it just goes to show how great a board game it is.
How does Settlers of Catan score on the "Let's play again" score meter?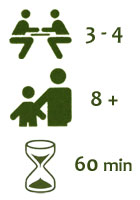 While Settlers of Catan gets good marks on our "Let's play again meter", it isn't a game that we play back to back. Because of the length of the game – at about an hour – we typically don't start a new game right as one ends. But rather it gets good marks because it's such an accessible game to pull out and play frequently.
And if you'd like to see what other game expansions there are for Settlers of Catan, you can take a look at the Mayfair Games website.
Other board games your family might enjoy:
Posted on December 19th, 2010