Ninja versus Ninja – Bring on the Ninjas!
We don't need to beat around the bush on this one. Ninja versus Ninja is a great family board game!
It's easy to learn, simple to play, and full of the cutest ninjas you'll ever see.
Ninja versus Ninja is a battle between 2 teams of ninjas. Each player tries to sneak into the other team's dojo to score points. But they only score points if they make it back to their home dojo safely. And once each player gets the hang of movement in Ninja versus Ninja it's not always easy to do.
Now check out the video review from our little ninja Caleb.
Can the whole family enjoy playing Ninja versus Ninja?

Absolutely. As you can see in Caleb's review, the basic play of the game is to simply roll and move. And everyone from young to old can understand that concept. The limitations come in the ways you're able to move your ninja, but those are easy to figure out as well.
One thing we worried about at first is how the younger kids would take to having their ninja pieces eliminated from the game. Would they be offended? Would they want to cry? Maybe so the first couple of times. But it wasn't long before they realized it was just the way the game goes and part of the fun. Then they started dishing it out like the best of them.
And wouldn't you know it – pretty soon most games were being won by the elimination of the other team of ninjas rather than scoring 7 points.
How long does it take to play?
Ninja versus Ninja is a pretty quick game to play. And that's fantastic for a few reasons.
First is that you can play more than one game in a row. And you'll find that you'll end up playing many games in a row because of all the calls for a rematch.
Second, is that no one sits around moping about losing. If things are looking like you're going to lose, it doesn't last long and you know that you'll be able to simply play again. So it's great to use as a game to teach how to lose gracefully.
Third is that it makes a great game to play before bedtime. You don't need a lot of time to either set up the game or play it. Of course, you'll also need to make sure there's enough time before bed to play more than one game (see reason #1).
Cutest ninjas ever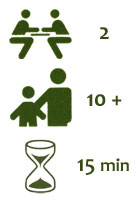 Who can't love a ninja that looks this cute? Out of the Box really did a fantastic job with the components in this board game. The board may seem pretty simple as it's just one side against the other, but the colors and style are great. And have you ever rolled dice with swords through them? These may be the most creative dice we've ever rolled.
But it's the ninjas that steal the game. The cartoon-style ninjas are simply fantastic. You'll have to be careful to make sure they stay with the game because it's easy to see how they could end up as additional figures to a boy's toy collection.
How does Ninja versus Ninja score on the "Let's play again" meter?
Ninja versus Ninja scores very high on our "Let's play again" family game meter for all the reasons stated above. It's simple to play, is a great head-to-head battle, is pretty short, and has fantastic playing pieces.
Thanks Out of the Box for another fantastic family board game!
Other family board games you might like:
Posted on November 21st, 2010