Pandemic – Let's all save the world together
It's a cooperative board game that has everyone trying to beat the game – you either all win or all lose. And believe us, there are many ways to lose.
Players take on different roles and work together to rid the world of diseases. Not only do you have to stop them from outbreaking, but you also need to find the cures. It's like working out a puzzle together – with the fate of the world in your hands and time ticking away.
Check out Caleb's video review of Pandemic to see what it's all about.
It's actually the first video review Caleb did when we were first getting started doing video reviews of board games. Pandemic was picked because it's a great family game. And Caleb shows that even a 6 year old can pitch in to save the world.
Can the whole family enjoy Pandemic?
Absolutely! That's the best way to play it.
Although all 6 of us can't play at once, it's okay – because with it being a cooperative game even those sitting on the side can chime in with their suggestion on what to do next.
But be careful, because it's addicting too. When you lose, you'll just want to start all over again. And when you win, you'll want to increase the difficulty level and try again. Of course, we have yet to win on the highest difficulty level.
But we don't mind trying again, and again, and again…
Pandemic immediately earned a spot as one of our top 10 family games.
So when we started thinking about doing game reviews, Pandemic and BANG! were the ones we started with. This video review was our first test run with just our standard camera that we use to snap photos. But since it had a video option, we gave it a shot. So the video may look grainy, but it was a fun start.
Take our word for it – you really want this game in your family game collection.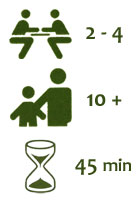 Of course, you better watch out there too, because an expansion for the game came out and we're warning you now that you'll want it. We got the expansion for Christmas 2009 and it takes Pandemic to an even greater level. Keep an eye out for our video review of Pandemic: On The Brink coming soon.
Update 2013: We've now posted our review of Pandemic: On the Brink and you can read about all the great things it adds to the game in our review.
Buy a copy of Pandemic for your family.
Interested in what others think of Pandemic?
Check out these other opinions:
* Board Game Reviews by Josh Pandemic review
Pandemic is fantastic family fun!
Posted on February 25th, 2010