Blokus gets high marks
Blokus has become a staple in our family. We play Blokus regularly because it's such a quick and easy game to play, yet can pack a punch because you never know when it's going to take a turn against you.
It's also a board game that we think every family should have!
Kids love the bright colors and cool shapes and adults may think they're back to playing Tetris. The question is – can you beat your kids?
Check out Brooke's video review of Blokus.
Can the whole family enjoy Blokus?
Absolutely! That's what Blokus was made for – family play!
Blokus is also a favorite board game to play at larger family gatherings because it can be fun to rotate through the players. We like playing with 4 players the best. It adds more dynamics to playing because some may gang up to block off a player and others may skirt by unnoticed. And we can create some pretty inefficient game boards with a lot of non-covered areas and a bunch of large left-over pieces because of the direct attacks on blocking.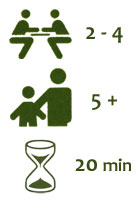 And like most everyone that plays this game we've had great debates on how to properly pronounce the game. Since it's all about blocking, we've wanted to say "Block-us". But with kids learning to spell it's hard to pull that off because of the missing "C" – and they can be pretty particular on not letting those exceptions to the rules take over. So we've gone with "Bloke-us" and now it's stuck. And that way it let's us revert to British accents while calling each other a crazy Bloke when they cut us off.
Overall Blokus gets top marks in our family. And with such durable pieces and board, we'll be playing Blokus for ages to come.
Pick up a copy of Blokus today!
Other fun games your kids might enjoy:
Posted on November 20th, 2009